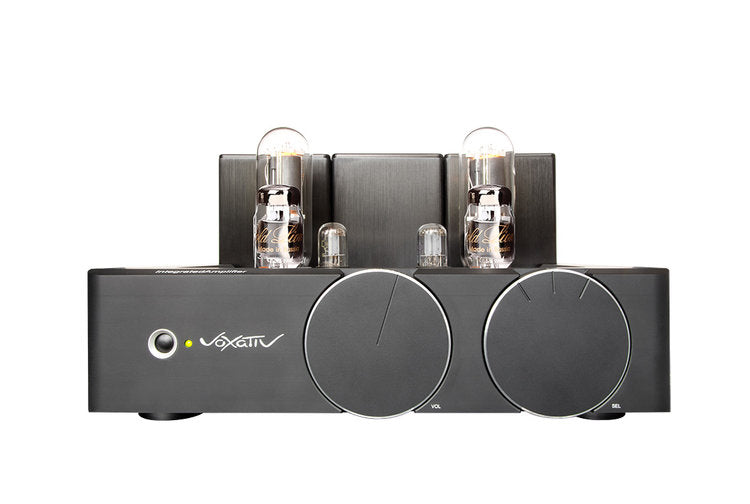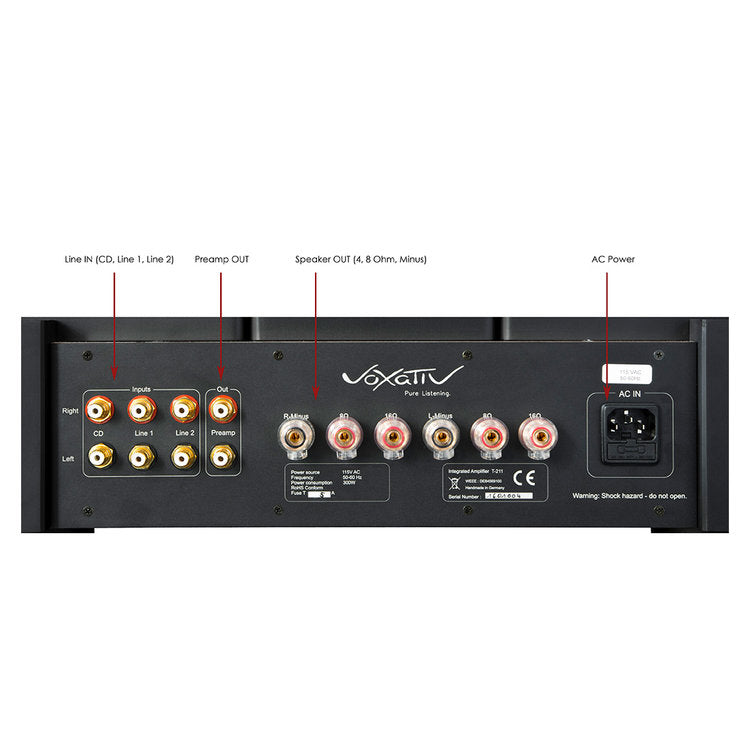 Voxativ T805 Integrated
---
Voxativ T805 Integrated
30W x 2 SET
Now any speaker can be driven by a Voxativ amp
"If you want something done right – do it yourself" applies to everything we do.
So, we built a new SET integrated to drive lower efficient speakers in Voxativ quality. This version features Psvane 805 tubes in teflon sockets, a 48-step motor-driven attenuator, remote control + separate heating and AC transformers housed in an AST® tuned chassis milled from a 110lbs block of aluminum.
T805 Setup
Depending on your room, equipment and listening habits – there are a number of ways to configure The T805 with special tubes and Voxativ cabling to meet the needs of your speakers. Of course the unit works well with all Voxativ products.

T805 IN THE PRESS
Presented in Munich at the High End Show 2018
T805 IN DETAIL
The prettiest way to drive your lower efficiency speakers.
30 watts of single ended 805 tube sound.
The Voxativ 805-based SET amplifier is a new 120 lbs. (55 kg) beauty. It is inbuilt in a one-piece housing that is milled out of a 150 lbs (63kg) aluminium block. The outside surface is anodized, not painted.
The internal circuit is DC coupled. No interstage choke - this means a new genius circuit to transfer your music to the power tubes. A channel separated power supply is implemented. The KT66 driver stage works in triode mode driven by the ECC83 input stage. And, of course: All is single ended, pure class A. All coupling capacitors by Mundorf.
We use special designed Voxativ transformers only. These transformers are musical instruments - like our drivers. And this is what you get.
The Voxativ T805 SET amplifier: Excellent sound for all Voxativ and other lower efficiency speakers. This amplifier is equipped with a preamp-out stage to drive the Voxativ PI-Bass woofer units direct and without any loss.
This amplifier is handmade by the team of Voxativ in Fulda/Germany.
Technical data
Frequency Response
20 - 20.000 Hz
Signal to Noise Ratio
97 dB
Distortion
2 %
Tubes
2 x 805 - Selected Psvane Tubes with gold plated connectors
2 x KT66 - Gold Dragon driver Tubes
2 x ECC83 - input Tubes
Input Sensitivity
180 mV
Input
3 x line
Output
8/16 Ohm speakers
volume controlled preamp-out
Power Handling
2 x 30 W
Power Consumption
340 W
Colour
black
Dim (W x H x D)
17 x 10 x 19" (43 x 25 x 47 cm)
Weight
120 lbs (55 kg)