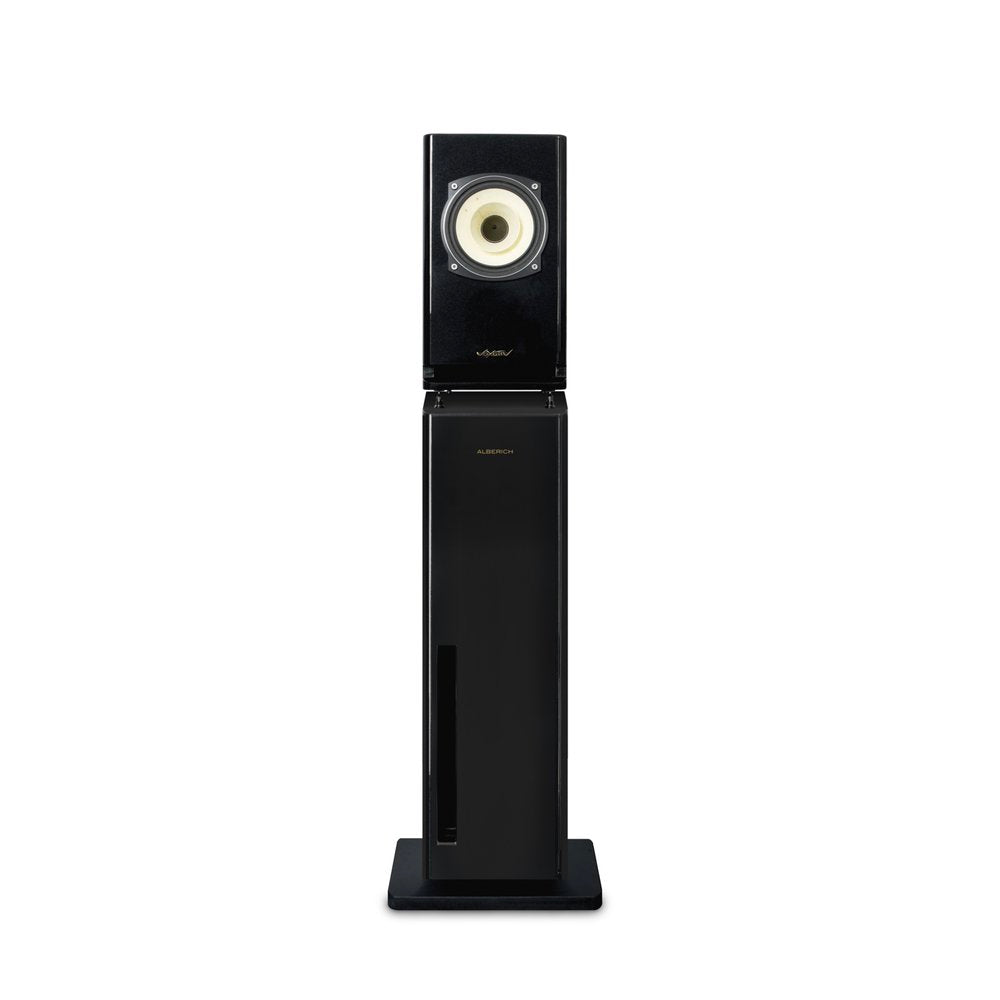 Voxativ Alberich System
---
Voxativ Alberich System
WHY THE NAME?
Alberich was previewed at the 2019 Hamburg Norddeutsche HiFi-Tage Show. The name Alberich harkens from the strong father of Hagen in Wagner's Ring Cycle - still small but with much more power. Following the worldwide success of our hybrid active 9.87 approach (pictured on the right) - we decided to apply this as an upgrade to the Hagen monitor.
Alberich In Detail
The new Alberich system is a modular concept that can be configured multiple ways depending on your listening preferences.
The loudpspeaker consists of two handcrafted components:
A set of Voxativ Hagen monitors with Voxativ AF-1N drivers which then sit upon a Voxativ Alberich bass module.
Given the high-efficiency nature of our drivers, Alberich pairs nicely with low wattage tube amps that also offer pre-amp RCA outputs to connect to the active bass module.
For a simple yet high resolution system — Alberich can be purchased as an Absolut Alberich which adds our Absolut Box as the integrated amp with integral digital source streaming capabilities.
For those wishing to place Alberich in a more traditional analog system, we offer as a package the inclusion of your choice of two integrated amps:
A Lyric Ti100 Integrated tube amp, special modified, to be included as a bundled system.

The Symphonic Line RG14, Voxativ version if you prefer solid state.
Absolut Box (DAC/Amp with DSP optimized for Alberich)
Input section:
WiFi (AirPlay compatible, ROON compatible endpoint)
Bluetooth APTX
Optical
Analog in (for Phono stage, other source, etc)

Output section:
Speaker taps
Preamp Analog RCA out (for active subwoofer or tube amp)
Inside the Voxativ Absolut Box electronics:
Custom DSP factory-set for specific Voxativ speakers
DAC with Voxativ quality customized architecture
50W Class AB amplifier in Voxativ quality
WiFi (AirPlay compatible) for direct streaming (Tidal, Qobuz, ROON endpoint, etc.)
Remote control for volume
Switching power supply with automatic 115/230V selection
Hagen monitors:
Voxativ AF-1N drivers (5-inch, washi paper cones, neodymium magnet)
Alberich Bass Modules
Simply the fastest, tightest, most coherent way to deliver articulate bass to your smaller listening room.
By developing the Alberich Bass system, we have combined the Ripol® idea with our Acoustic Stealth Technology® - AST®. The result is a completely open system that has to move nearly zero air volume. Voxativ Alberich bass modules come as a stereo pair equipped with one 96dB efficient driver per module.
This woofer does have a very low moving mass, a strong Neodymium motor and is extremely fast – as fast as Voxativ widebanders. The result is a powerful bass down to 20 Hz.
The Alberich Bass woofer system is active and driven by a 500W class D amp. It has it's own adjustable crossover. We recommend a line connection to this system - so the only thing you need to drive the woofer system is a speaker connector or preamp out or alternatively high level connection.
All features like: Level, crossover frequency and phase adjustments are implemented for the perfect adaption to every listening room.
Frequency Response
20 - 33.000 Hz
Drivers
Bass-Module: Voxativ AC-ZA
Hagen monitor: Voxativ AF-1N
Efficiency max.
96 dB / 1W / 1 m
Capacity 240 W sinus
Dimensions (W x H x D)
20,5 x 105 x 25 cm / 8" x 42" x 10"
Color
Berlin Black
Weight
105 lbs