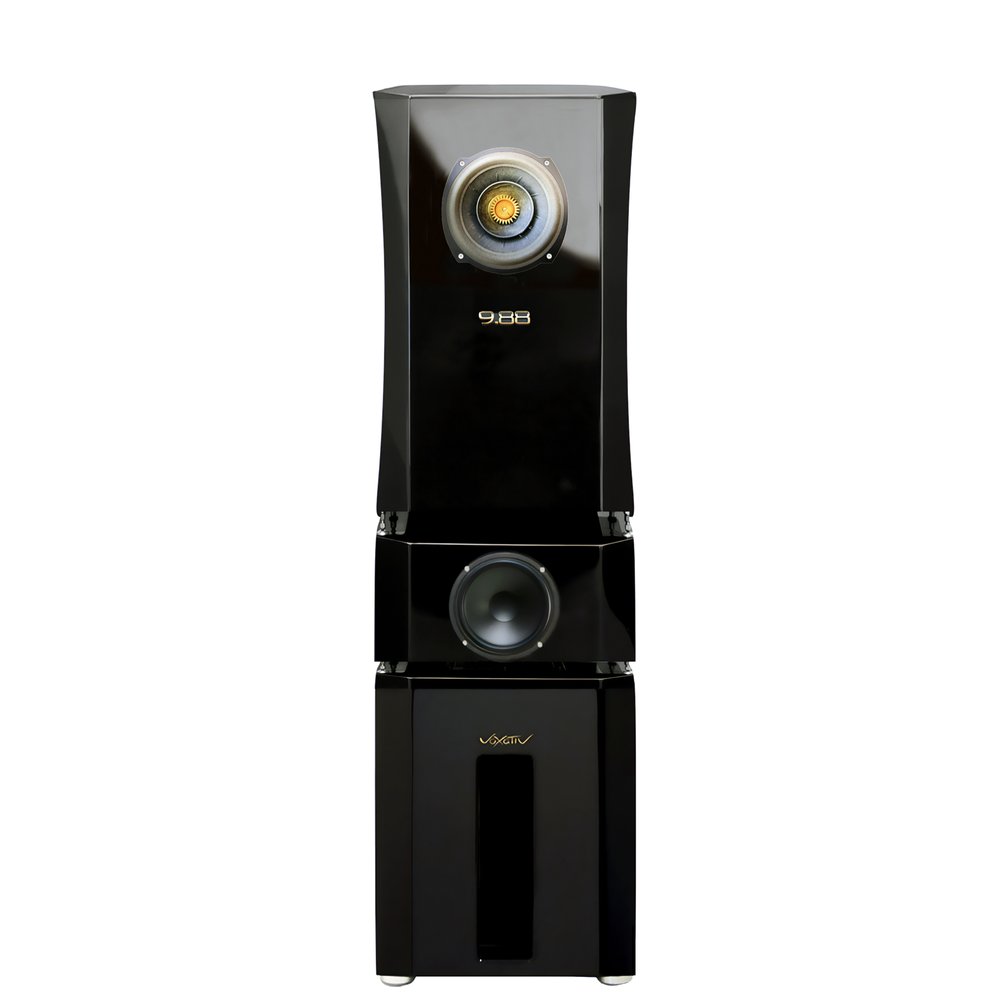 Voxativ 9.88
---
Voxativ 9.88
π X π + .01 =  9.88
Acoustic Stealth Technology
The Pi, .01 Mid-Module and Pi-Bass enclosures are all optimized using AST® – our proprietary housing design that dampens unwanted reflections.
9.88 in Detail
Sometimes, more is more — and for those who desire exit-level upgrade paths, Voxativ has answered their call. This is the Berlin-born brand's first expansion to their award-winning hybrid-active 9.87 System. It offers full-backward compatibility to owners of the current configuration via a stackable, plug-in-play Mid-module with self-contained midrange driver.
This new configuration consists of two key innovations, the new AC-4NP full-range driver and .01 Mid-module. This new configuration multiplies the advantages of three interlocking loudspeaker modules. Essentially, Pi x Pi + .01 = 9.88.
Starting on top is the acclaimed Pi-Monitor, a back-loaded horn enclosure sporting a new full-range driver — the AC-4NP. This new wide-bander combines a new CNC-milled basket, advanced suspension, enhanced paper cone, and new gold-plated magnet system derived from the AC-4F Gold to achieve higher resolution with even more finesse. This driver can be self-installed as an upgrade or purchased as part of a new 9.88 System. Voxativ Fieldcoil drivers can also be factory-installed upon request.
For those seeking more personalization in their listening sessions, Voxativ has designed the new .01 Mid-Module. This clever new plug-and-play addition of an 8-inch neodymium, low-distortion, low-midrange driver allows the listener to tailor the sound with three different curves — in the musical range where the girth, growl, body, and slam reside. For those who already own 9.87, simply add the .01 Mid-Module (MSRP $17,500) between the housings, and a 9.88 is born ~ offering you pure personalization for all the ways you love to listen.
The base for the 9.88 literally brings the bass as Pi-Bass, an active Ripole subwoofer linear down to 20 Hz and optimized with Voxativ's Acoustic Stealth Technology®. Inside, two opposing neodymium woofers are actively driven by a 250W Class AB plate amp. In addition, full crossover, phase, and gain controls are accessible in the rear.
>> TECHNICAL DATA
Frequency Response
20 - 20.000 Hz
Driver
VOXATIV AC-4nP
Efficiency max.
110 dB / 1W / 1 m
Capacity
50 W sinus
Dimensions (W x H x D)
16 x 56 x 16" (40x140x40cm)
Color
Piano Finish, white or black
Weight
190 lbs (87kg)
(Note: pricing is for a selected pair of speakers)