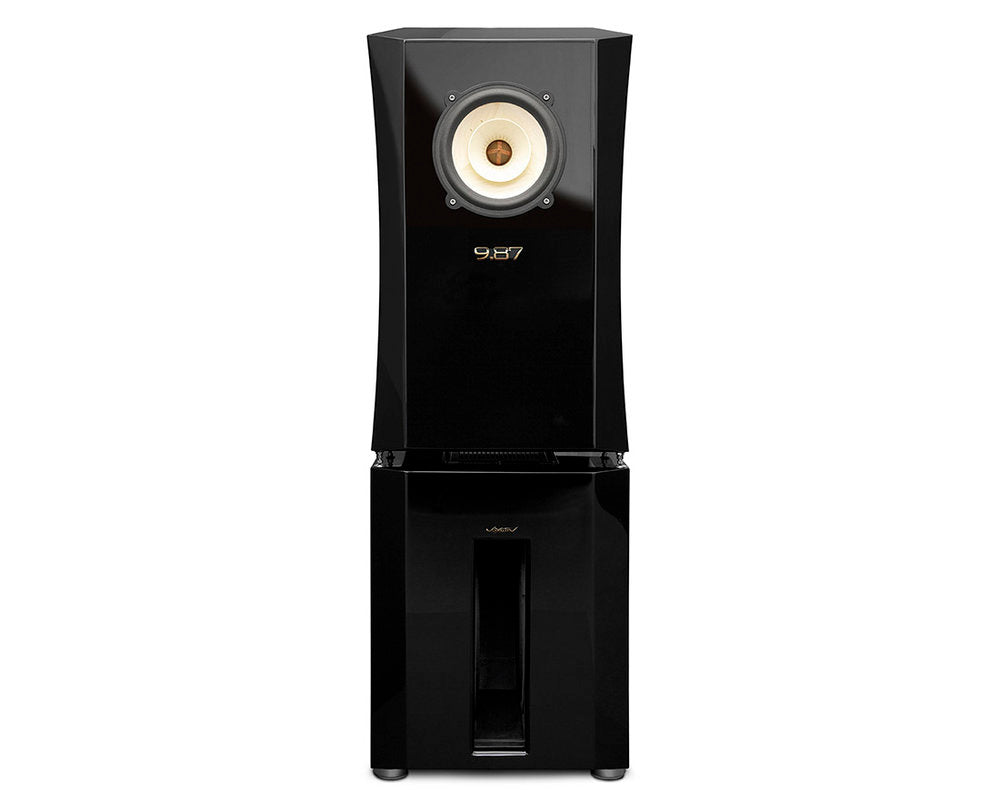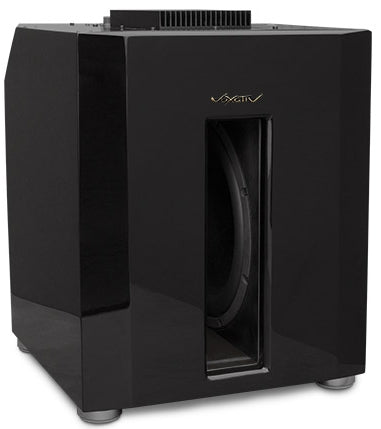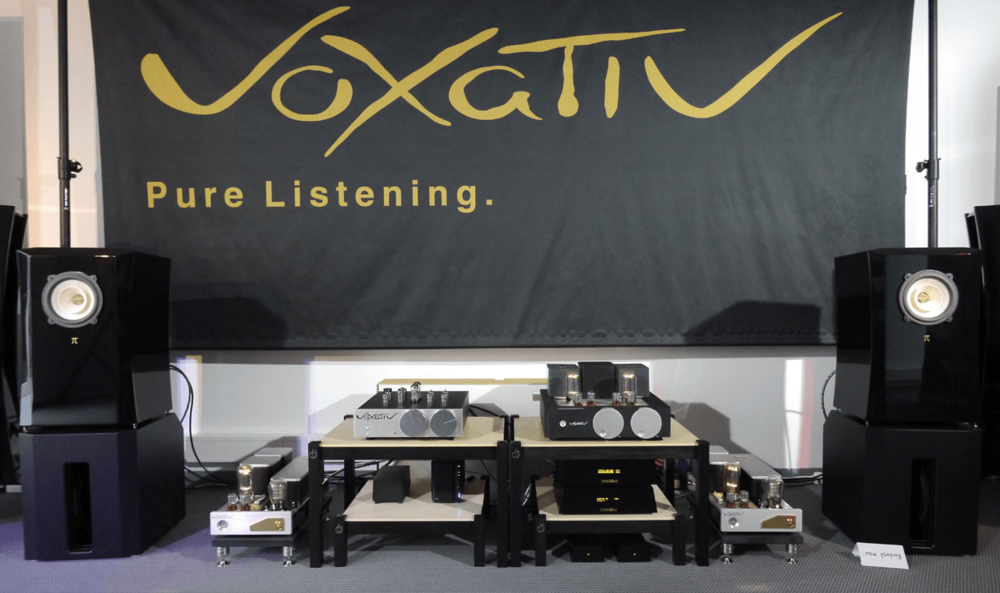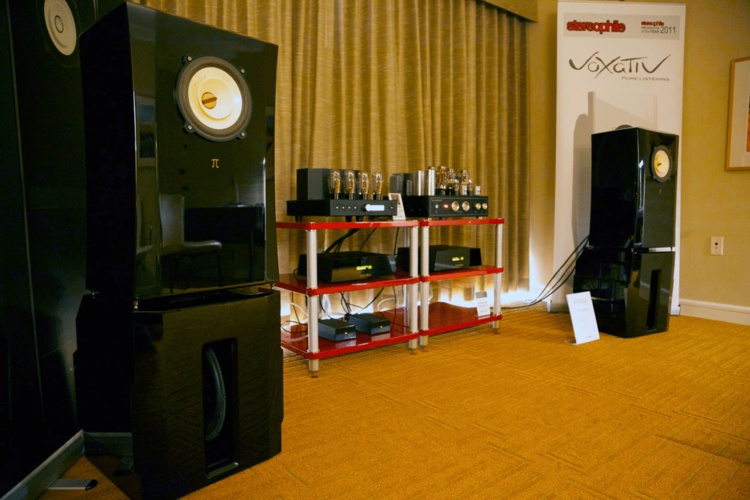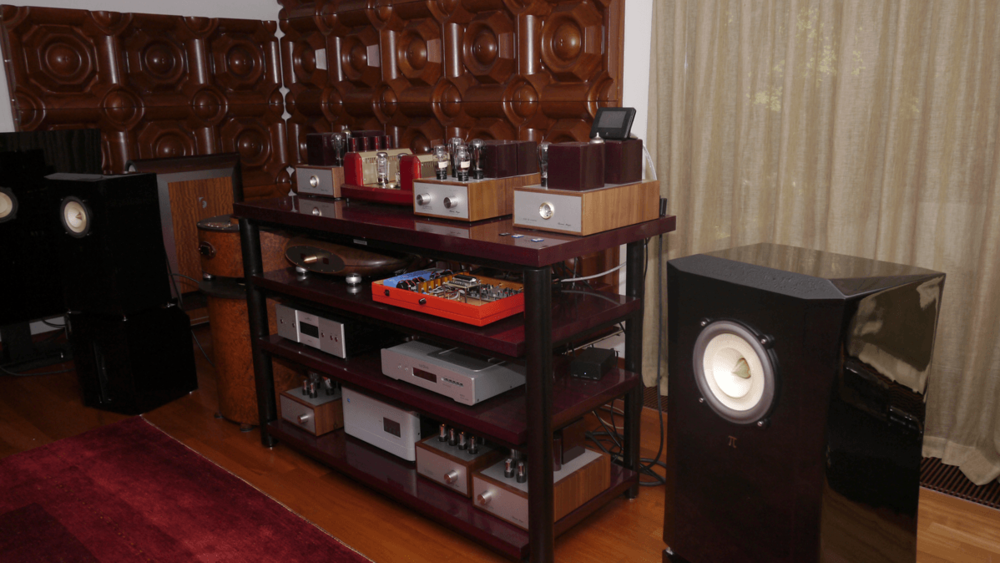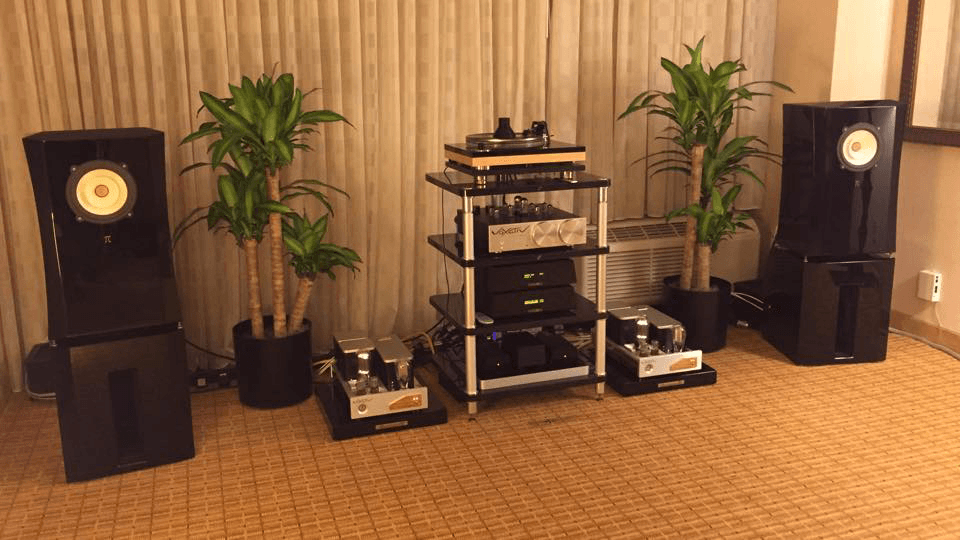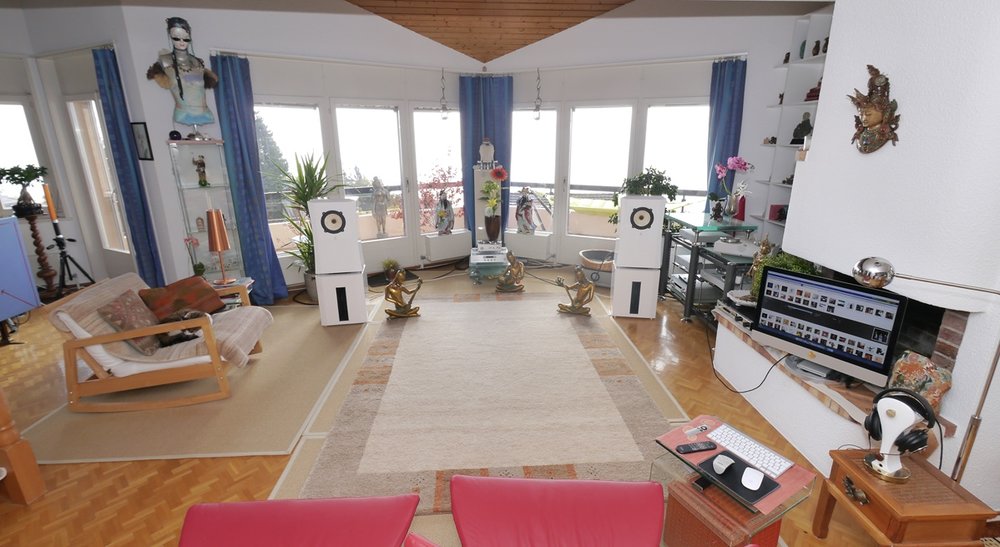 Voxativ 9.87
---
Voxativ 9.87
π X π =  BEAUTY + BASS
This hybrid active system combines the pure beauty of our passive second generation Pi (π) Monitor...
... with the mighty Pi-Bass ~ A fully active dipole woofer module powered by a 250 W Class A/B amplifier.
Linear down to 20 Hz optimized with our proprietary Acoustic Stealth Technology®.
Pi-Bass offers full crossover controls allowing for seamless room integration.
Driving the upper Pi monitors with speaker level output allows the Pi-Bass module to accept line-level pre-amp RCA outputs from an integrated amp like our T-211.
Acoustic Stealth Technology
Both the Pi and Pi-Bass cabinetry are optimized using AST® – our proprietary housing design that dampens unwanted reflections.
"The Voxativ 9.87 is King. Everything else ain't." - Steve Hoffmanm, Mastering Engineer

9.87 IN THE PRESS
"This truly superior system excelled in communicating the life and beating heart behind the notes." - Jason Victor Serinus, Stereophile

"On my list of speaker hotties I'd most like to keep around, Voxativ's 9.87 system enters a tight secret group..." - Srajan Ebaen, 6 moons

The 9.87 IN DETAIL
Anyone who thinks a single-driver loudspeaker lacks low-frequency delivery has simply never experienced our award-winning 9.87 System.
This modular hybrid active system consists of two units coupled together to perform seamlessly as one.
On top is our acclaimed second-gen passive Pi monitor that can be ordered with drivers of your choice.

On the bottom is the mighty Pi-Bass. A woofer extension system that combines the Ripol® speaker design philosophy with our proprietary Acoustic Stealth Technology®. The result is a fully open system that moves close to zero air volume allowing for free placement within a room.

The lower Pi-Bass module is equipped with 2 x 96dB neodymium woofers each (=99dB). These woofers are extremely fast and are driven by a 250W class A/B plate amp tuned by our electronics team.
Given this unique combination, this system runs semi-active in that the Pi monitors on top need no crossover and are fed directly from the high-level speaker cable taps from a complimentary amplifier like our Voxativ T-211 Integrated (the perfect pairing).
The bottom Pi-Bass woofer module has it's own amplifier and can be driven up to an onboard crossover setting of 120 Hz (recommended) with a full range of EQ to blend into any room.
We suggest a line-level RCA connection from your preamp to the Pi-Bass for highest fidelity (although a high-level speaker cable connection is also possible.)
The result is the most powerful full-range system the industry has ever experienced linear down to 20Hz in low-frequency slam.
>> TECHNICAL DATA
Frequency Response
20 - 20.000 Hz
Driver
VOXATIV AC-PiFe or others
Efficiency max.
110 dB / 1W / 1 m
Capacity
50 W sinus
Dimensions (W x H x D)
16 x 47 x 16" (40x120x40cm)
Color
Piano Finish, white or black
Weight
150 lbs (67kg)
(Note: pricing is for a selected pair of speakers)