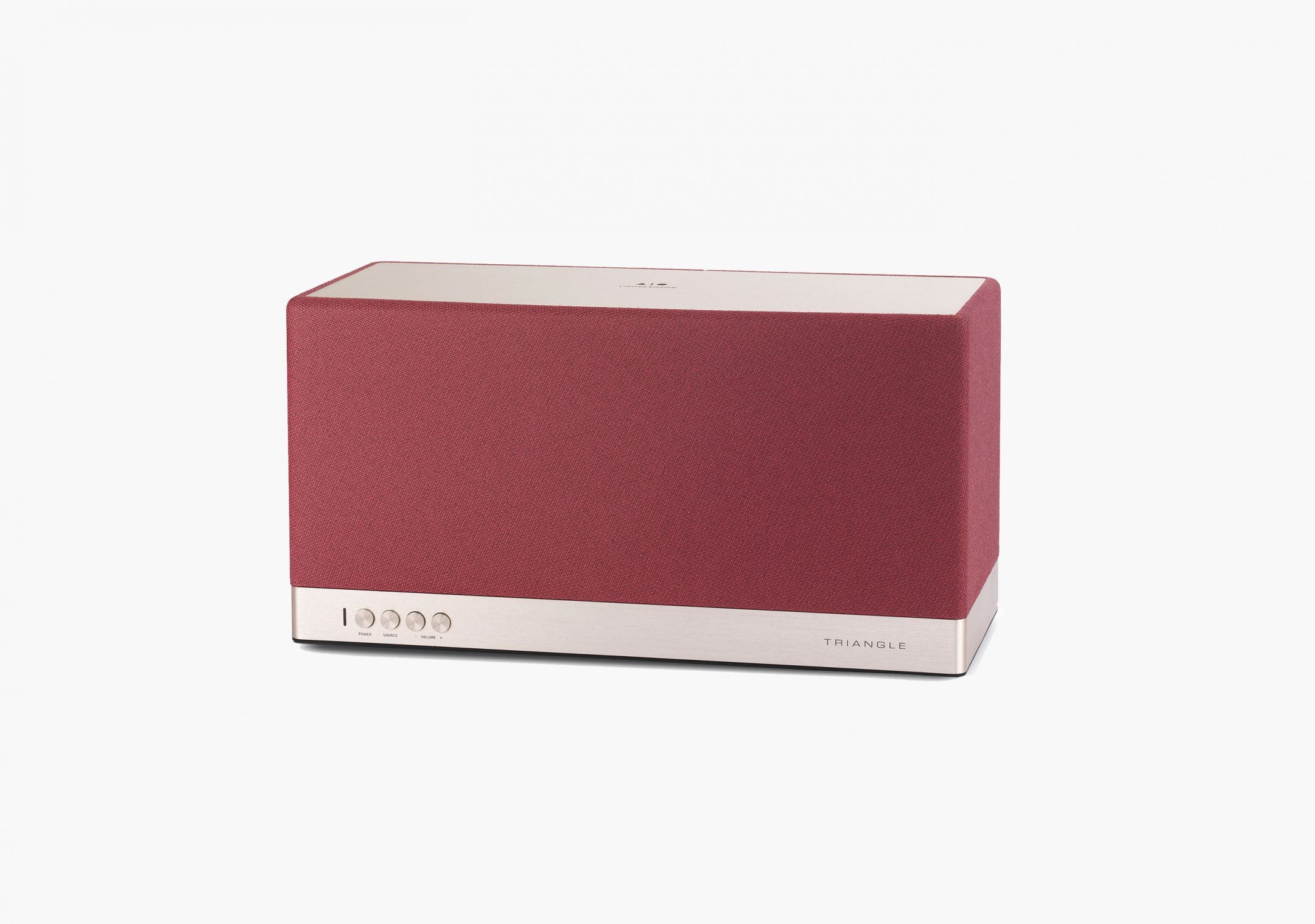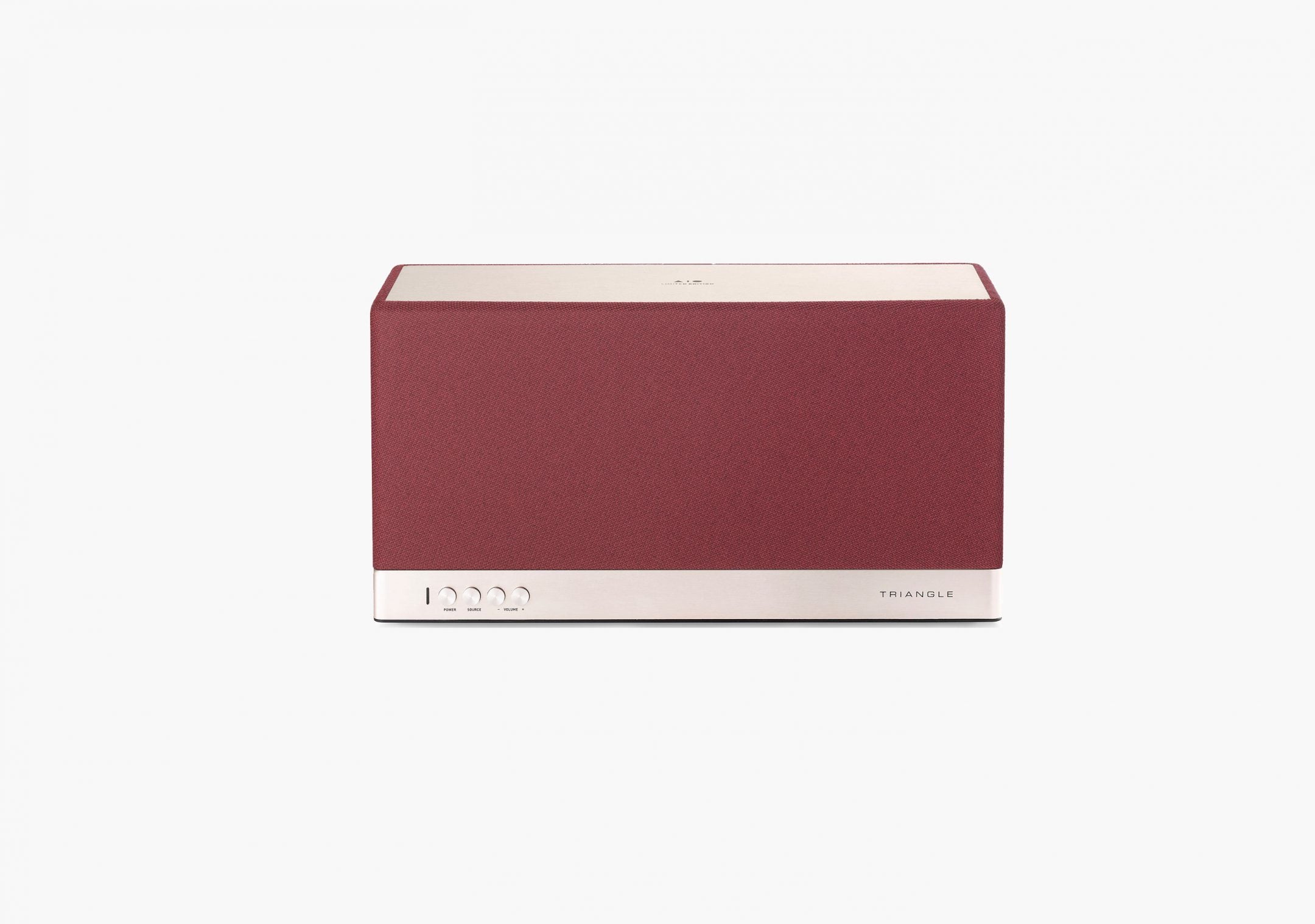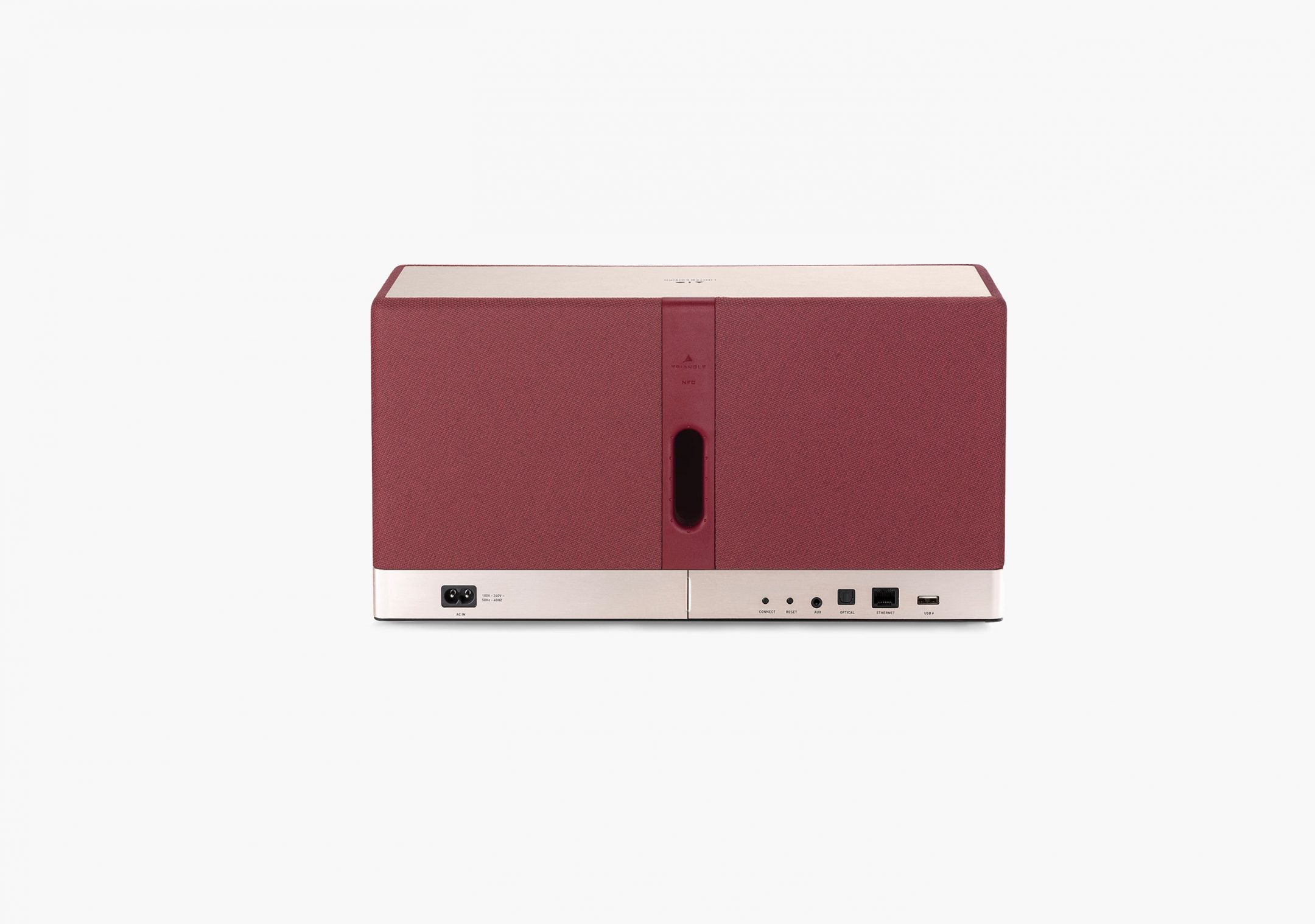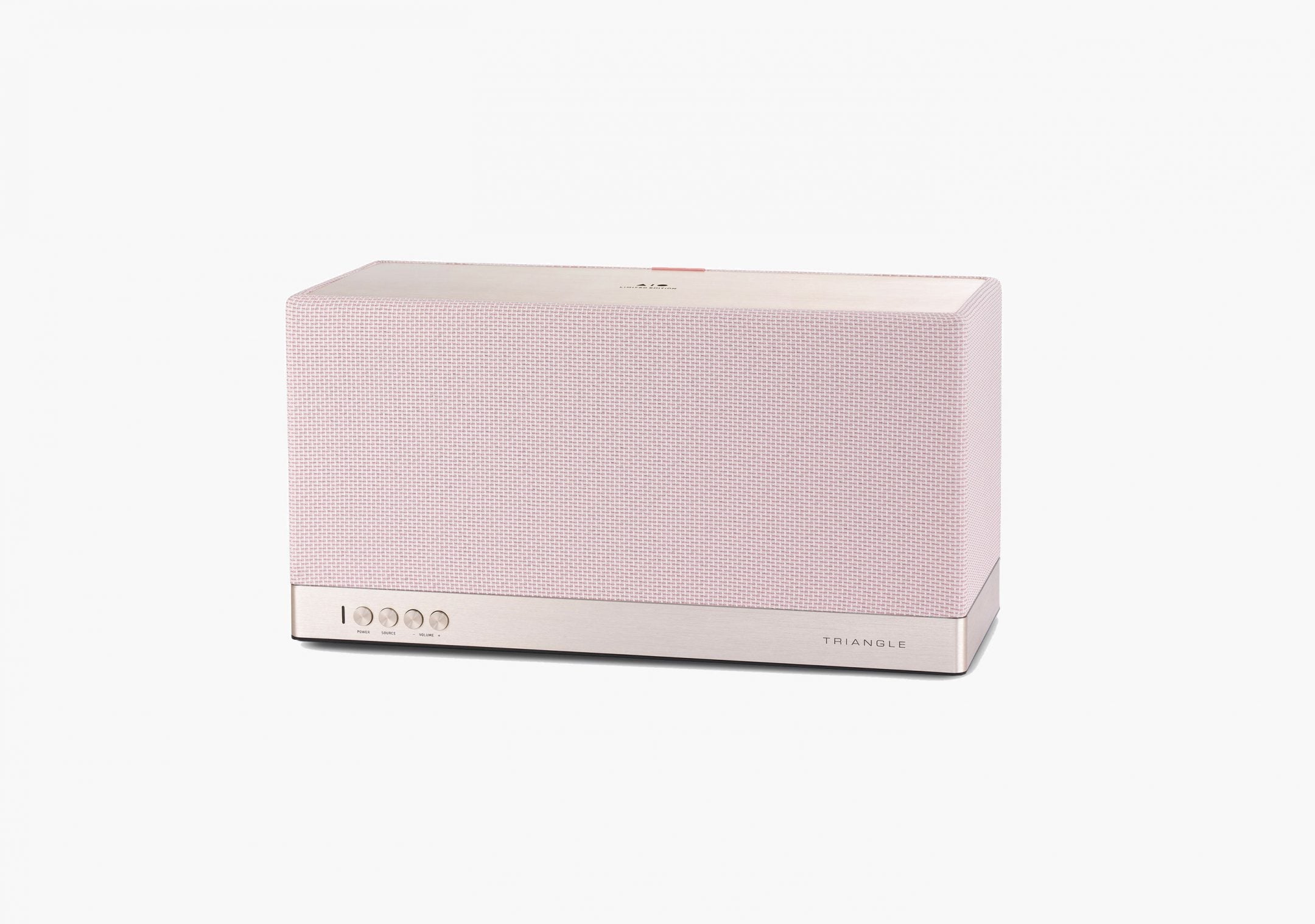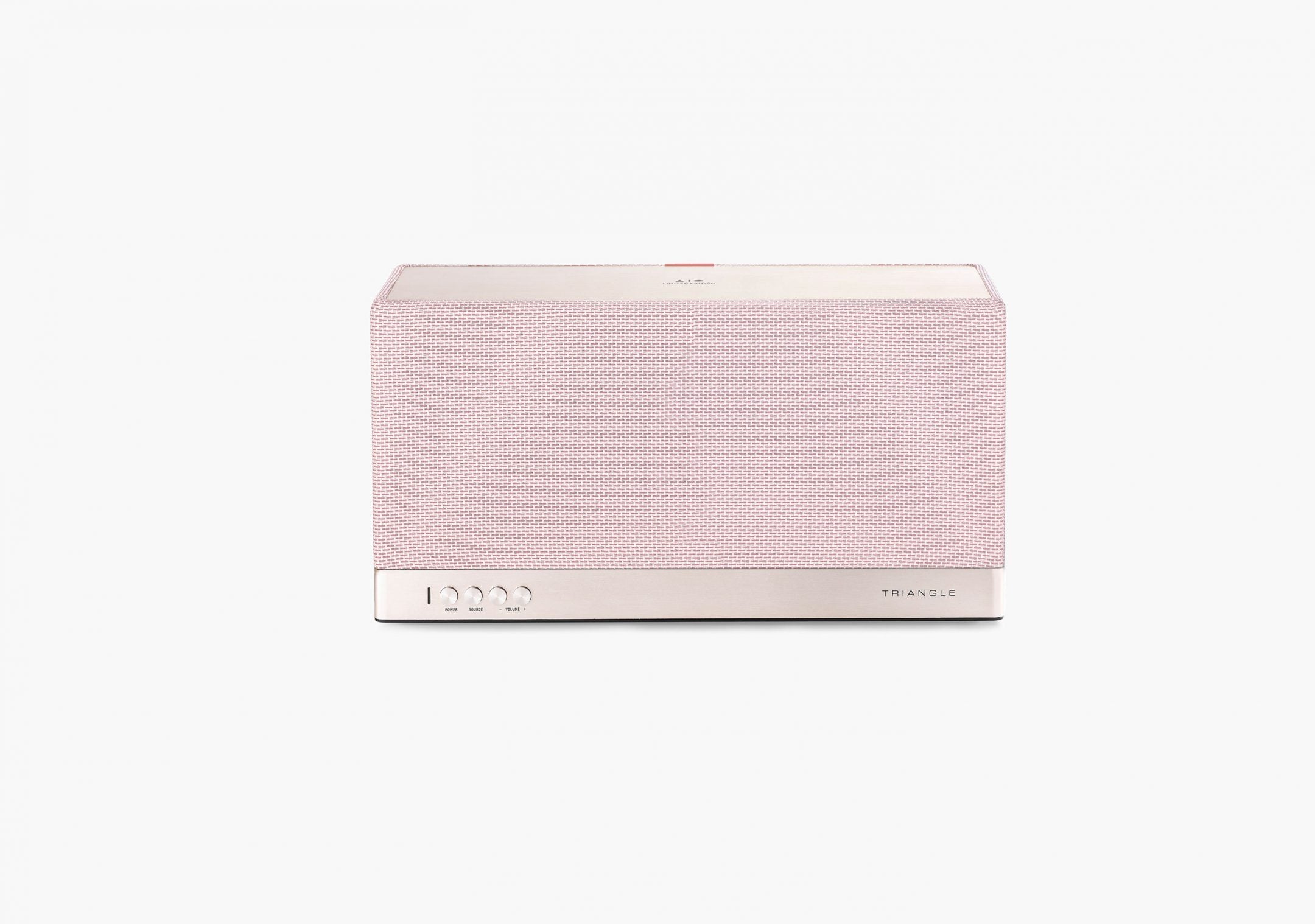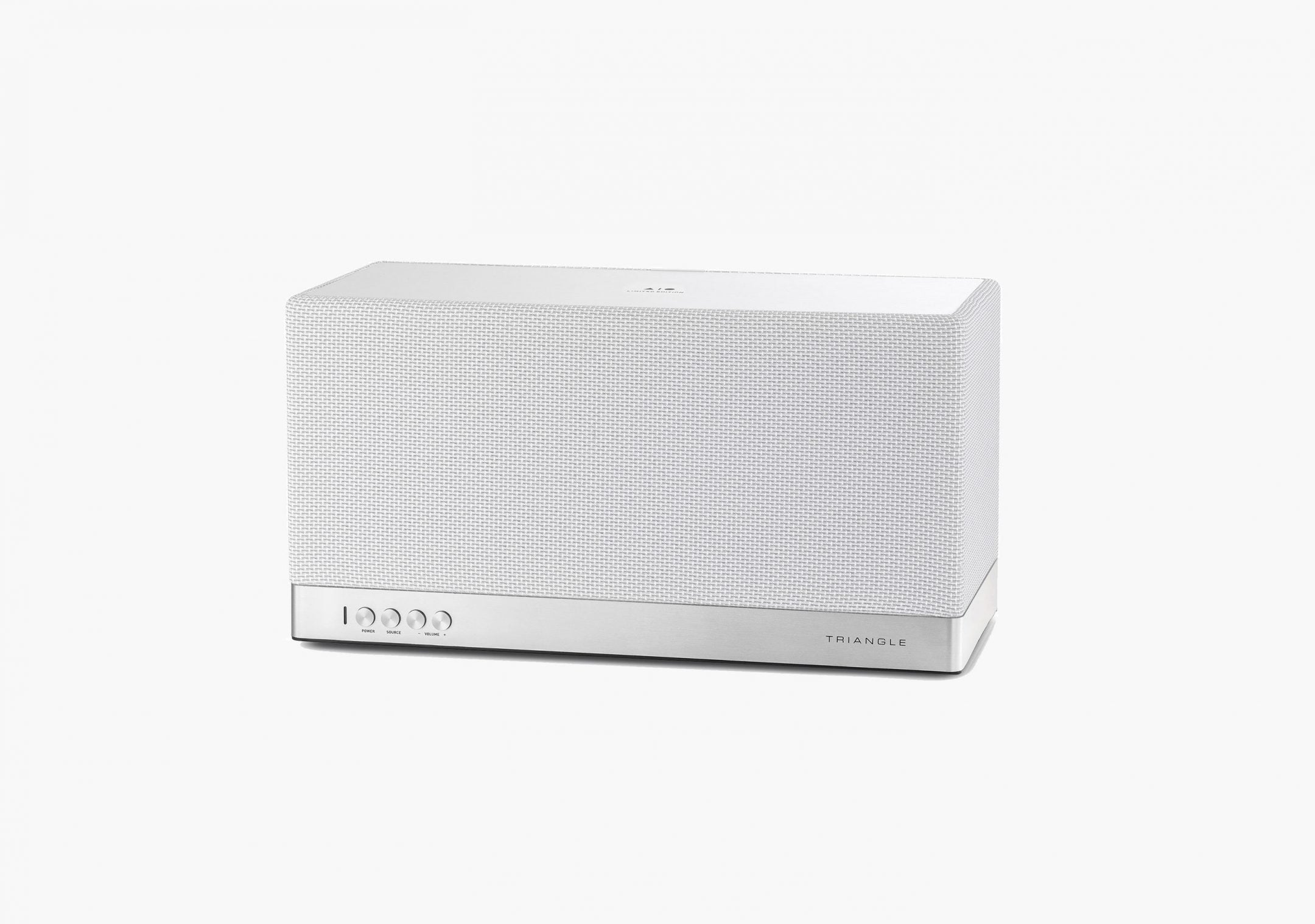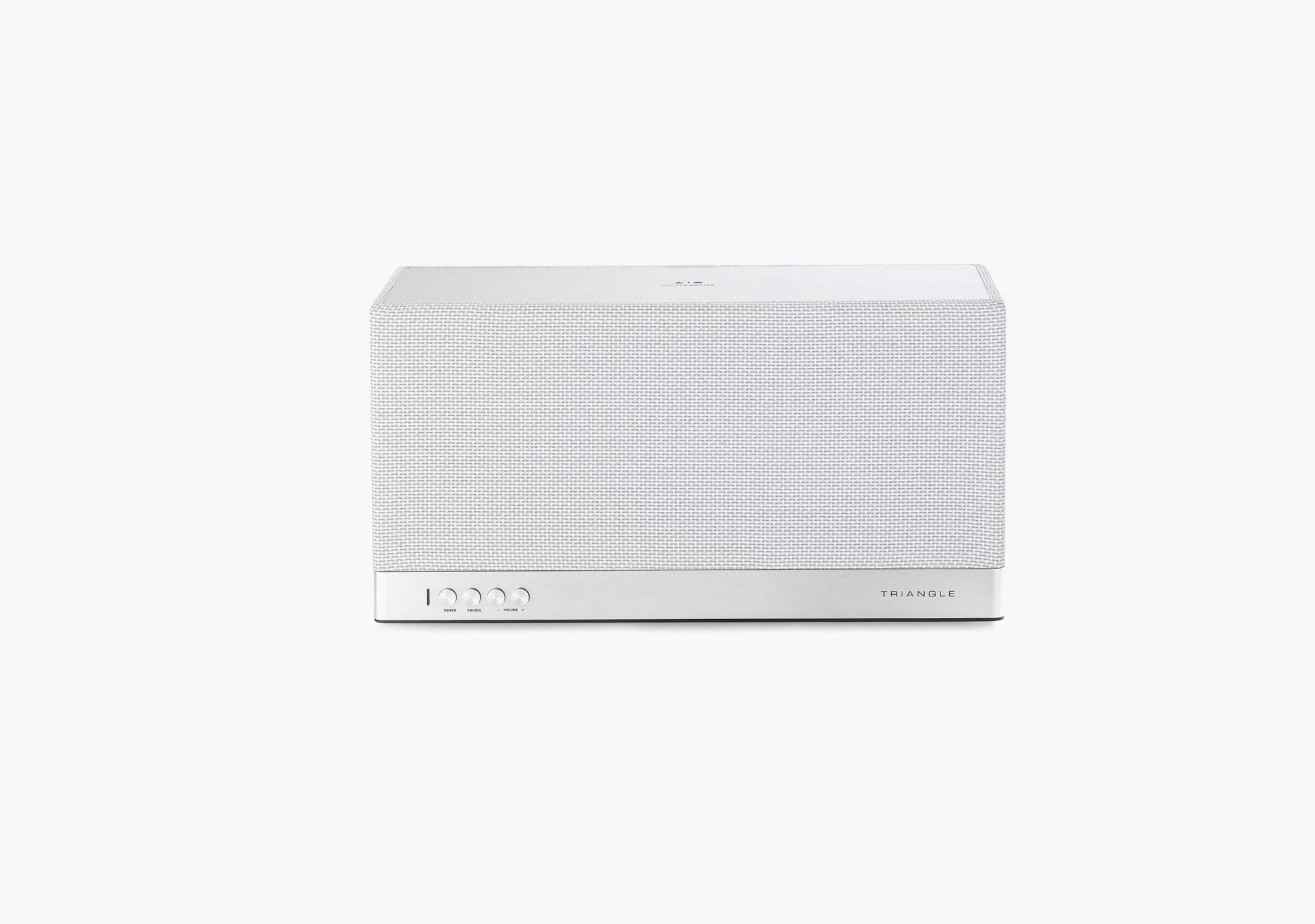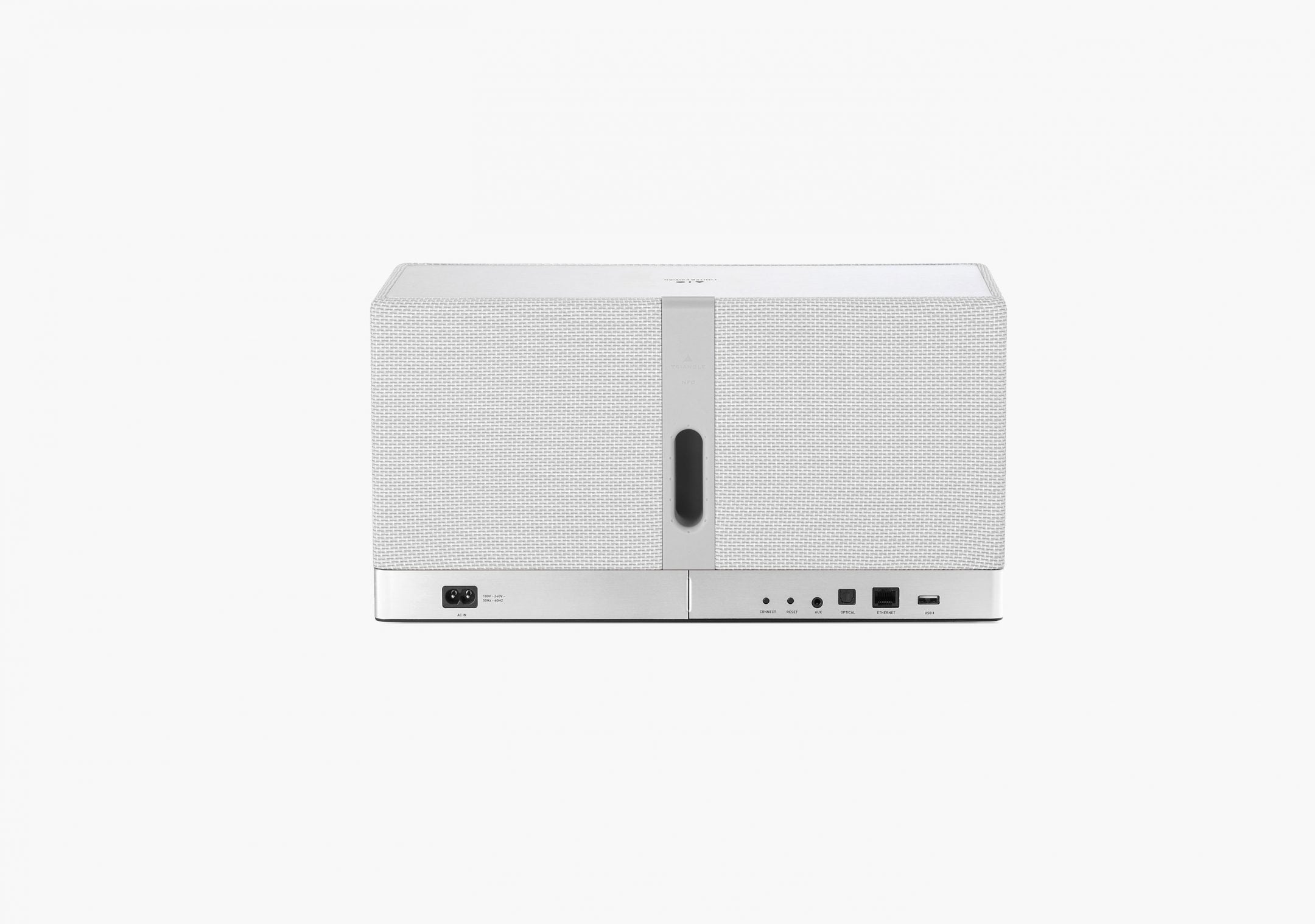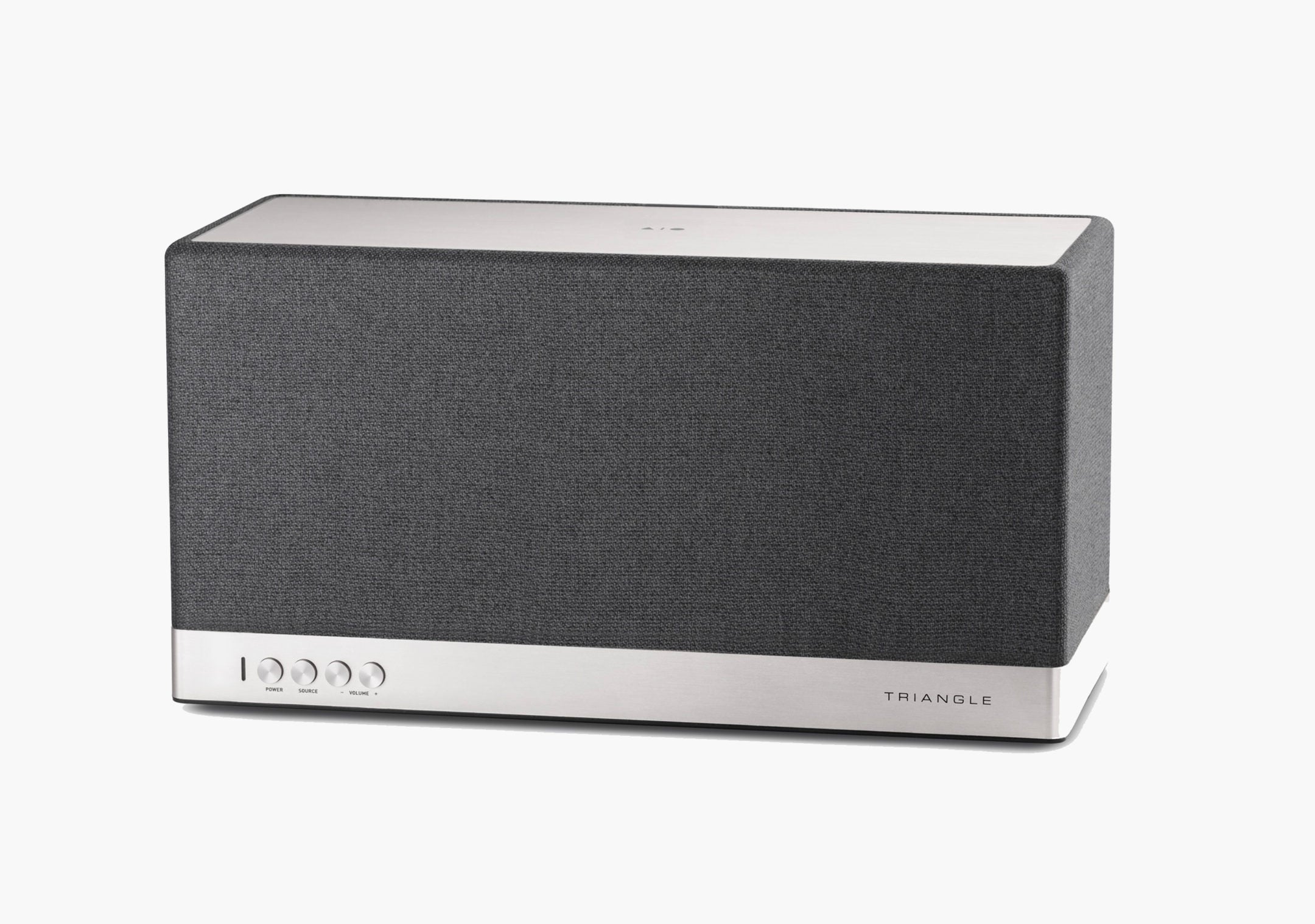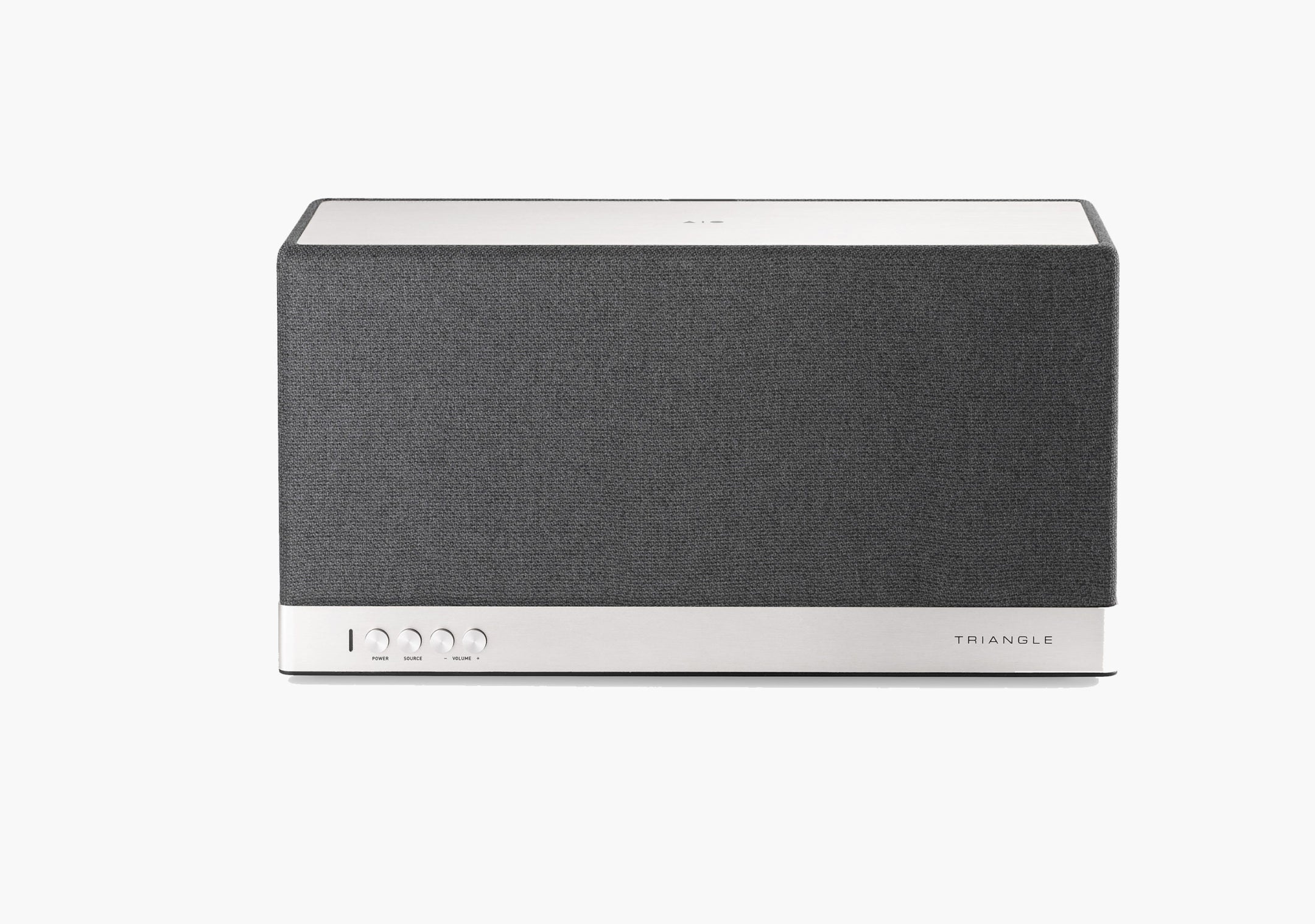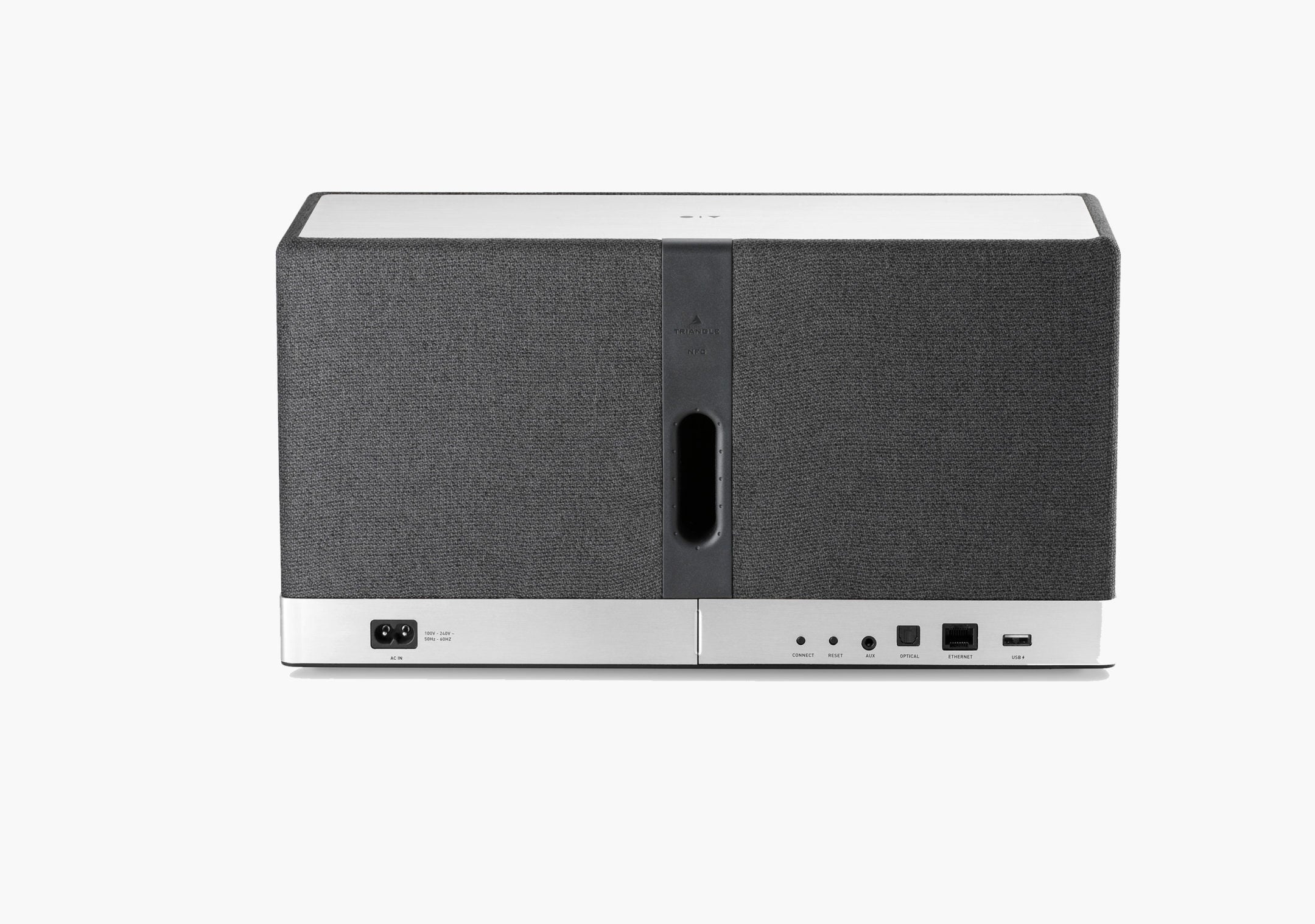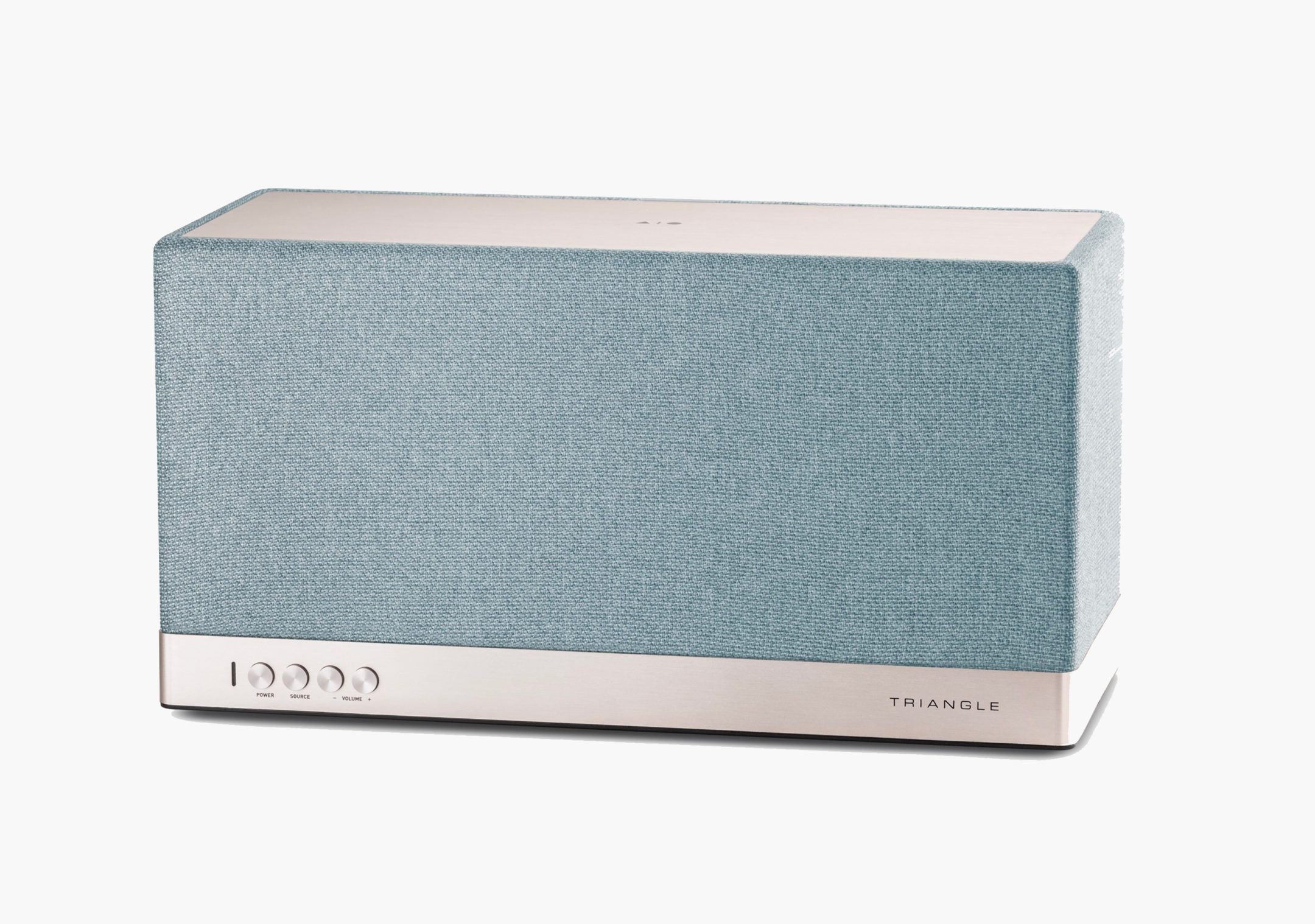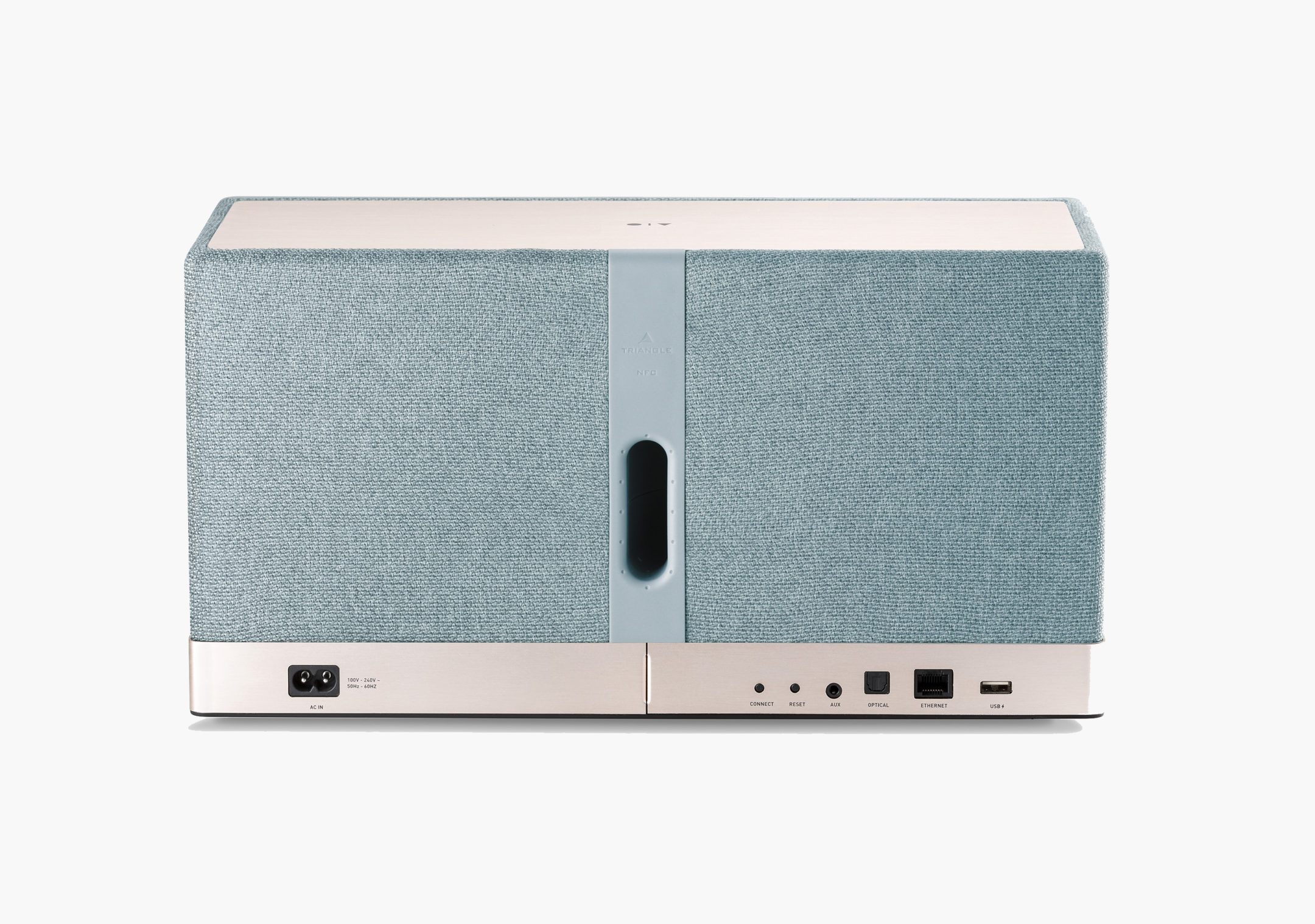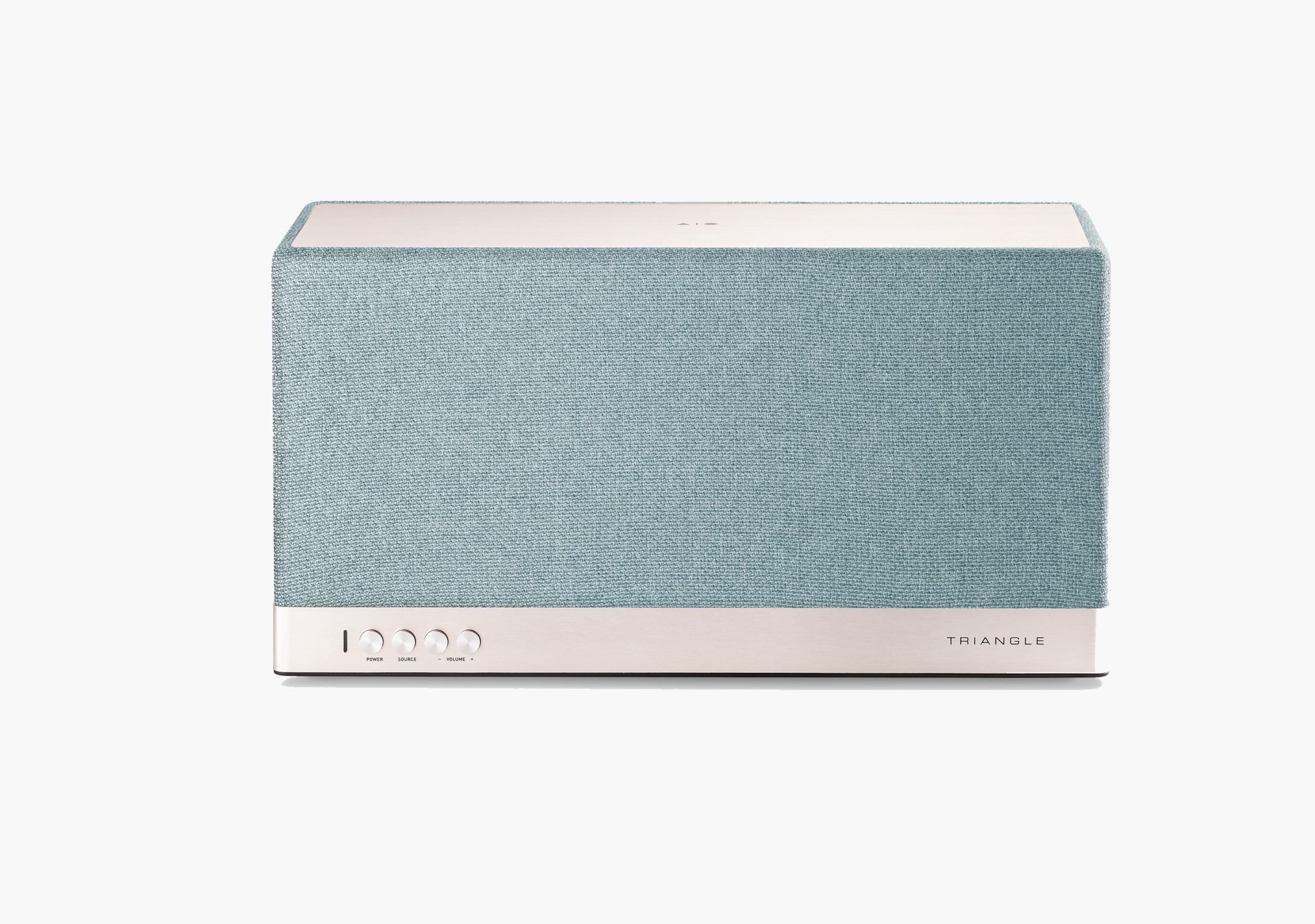 Triangle AIO 3
---
Triangle AIO 3 - Wireless Bluetooth Speaker
A perfect compromise between performance and size, the AIO 3 is a wireless speaker designed to bring music to an average room of 15m² and more.
Stream all your music from your phone, tablet or computer thanks to Bluetooth connectivity, and Wifi. With the "Triangle AIO" application create a multiroom network of up to 12 devices to broadcast music throughout the home. At the back of the AIO 3 you'll find a wide choice of inputs such as optical, RCA 3.5mm and USB A which allow for connectivity to a wide range of audio-video devices.
Housed in a wooden box enclosure, AIO is equipped with two 25mm silk dome tweeters and two 10cm mid-woofers. This 2 x 2-way configuration delivers true, detailed stereo sound with plenty of depth. A vent at the back reinforces the low frequencies for added performance.
Finished in gorgeous Scandinavian fabrics from Gabriel and brushed aluminum pieces, the speaker AIO 3 will blend elegantly in a living room, a bedroom or even the kitchen.
2022 Edition – New finishes and updates
The new Powder Pink, Frost White, Green Forest and Red Ocher shades are the highlights of this 2022 limited edition. The new version of the AIO 3 will become a favorite in your home allowing you to enjoy your music freely and easily in high resolution.
Get the latest AIO app features including OTA-certified "Over The Air" automatic updates, Amazon Music streaming platform integration and a new EQ feature.
AIO 3: Audiophile Built
While the AIO 3 is a connected device, it is first and foremost a high-fidelity speaker. It delivers a detailed and immersive stereo sound thanks to its high-density wood structure and its 2 x 2 ways construction, inspired by high-end stereo speakers.
Divided into two parts to accurately reproduce the left and right channels, the speaker is equipped with 2 x 25mm fabric dome tweeters and 2 x 10 cm mid-bass drivers that will sound great in small to medium sized rooms, up to 25m2.
Wireless streaming: simplicity & quality
Thanks to the AIO technology, you can choose between two different streaming protocols:
The simplicity of Bluetooth: the Bluetooth technology guarantees a simple & immediate connection and a universal compatibility with all types of sources (smartphones, tablets, computers …).
The quality of Wi-Fi: Enjoy each detail and the richness of your music using Wi-Fi technology. Play your tracks in high resolution in 24bits /192kHz for a purer and more immersive sound.
A WORLD OF MUSIC
Access a wide choice of streaming services from your smartphone or tablet using the free "Triangle AIO" app, available on the App Store or Google Play Store. You can also access the music stored on your devices or your home network.
With a wide choice of streaming services and online radios, access millions of tunes in high resolution and enjoy your music any way you prefer. Use the famous platforms such as Deezer, Spotify, Qobuz & Tidal and Amazon music since the beginning of 2022.
SIMPLICITY FROM ROOM TO ROOM
Live to the beat of your music throughout your home with the AIO speaker from TRIANGLE.In your bedroom, your living room or even your kitchen, enjoy high-resolution audio in every room while taking control with a dedicated app.
Set up all the AIO devices (AIO TWin, AIO 3, AIO C) on your network via the TRIANGLE AIO app, which is compatible with iOS and Android. Control the streaming in each room, adjust the sound level, optimize the signal thanks to the EQ or sync your speakers with each other.
BEAUTIFUL DESIGN & MATERIALS
Following the heritage of High Fidelity speaker, AIO Series is using only the best material to provide the best sound and perfect finish. Like traditional speakers, the AIO is made of a wooden enclosure: an excellent material in the domain of acoustics that offers the acoustical properties required in a high-quality speaker.
FINISHES
Thanks to elegant aluminum feet, fitted with rubber pads, vibrations are minimized. The sound is thus delivered while preserving the surface of your furniture.
Technical specifications
| | |
| --- | --- |
| Type | Multiroom speaker |
| System | iOS, Android, Windows, Mac |
| Drivers | Tweeter 2 x 25 mm / Basse 2 x 10 cm |
| Wifi | Integrated - IEEE 802.11 b/g/n Standard |
| Set-Top Box Up to | 24 bit/192 kHz |
| Bluetooth Integrated | Bluetooth Integrated |
| Bluetooth Integrated | AUX IN |
| S/PDIF | input Optical |
| LAN | RJ45 10/100M LAN |
| USB | USB2.0, USB FlashDisk. Max power 5V/1A |
| Audio formats | APE, FLAC, WAV, Apple Lossless (ALAC), AAC, AAC-LC, HE- AAC, HE-AAC v2, MP3, CBR/VBR |
| Power handling | 2 x 45W, 8Ω |
| Dimensions | H7.67 x W14.17 x D5.9" |