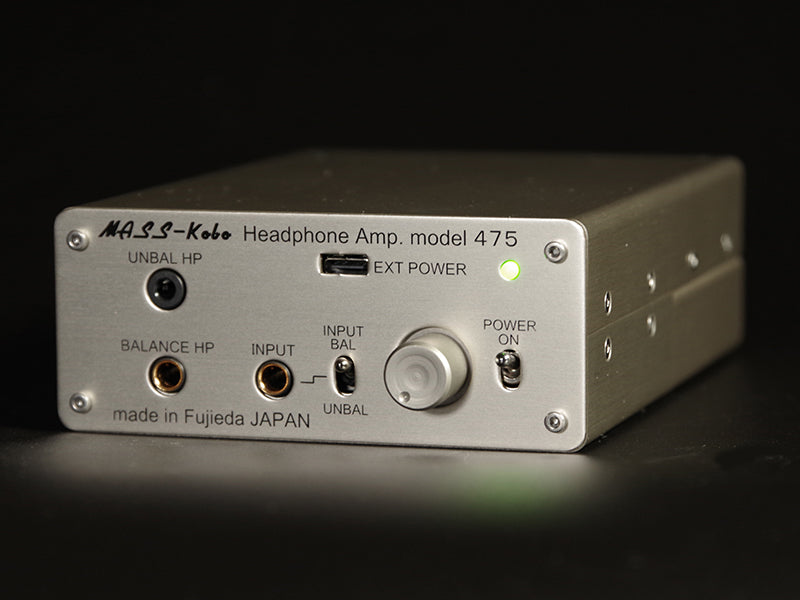 MASS-Kobo Model 475
---
MASS-Kobo Model 475
The external power supply terminal of this fully balanced portable headphone amplifier has been updated from Micro-USB to USB-C.
The input is only 4.4 mm Pentaconn, but it is equipped with a mode switch that allows you to connect players with unbalanced output using a conversion cable. (Click here for the pin assignment for the connection cable.)
Equipped with a switch with the same function as the output gain selector switch installed in the flagship models. This allows the user to switch between Hi and low inside the case allowing to accommodate anything form inefficient dynamic headphones to highly efficient balanced armature IEMs. 
It can be used for about 4 hours with alkaline AA batteries. *Varies depending on battery condition and type*
It is also possible to supply power by connecting a portable battery to the USB-C terminal. This is purely for power delivery and not for charging.
*Balanced output of model 475 does not support unbalanced headphones or IEMs. Connecting unbalanced headphones or IEMs requires a conversion cable. Please use 3.5mm unbalanced output for unbalanced headphones and IEMs*
Specifications
(Batt. 6V or USB 5V)
Model: Full-Balanced Portable Stereo headphone amplifier
Input: φ4.4 TRRS x 1 (balanced or unbalanced)
Output: 4.4 TRRS (balanced) , φ3.5 TRS (unbalanced)
Maximum Input Level: +16dBm (balanced), +10dBm (unbalanced)
Maximum Output Level (P-P): 7 V (balanced), 3.5V (unbalanced) (with 32Ω loaded, 1kHz, THD+N 0.5%)
           (RMS): 2.3V (balanced) , 1.2 V (unbalanced) (with 32Ω loaded, 1kHz, THD+N 0.5%)
Maximum Output without Distortion: 165mW (balanced), 45mW (unbalanced) (with 32Ω load, 1kHz, THD+N 0.5%)
Frequency Characteristics: 20Hz - 20kHz (-1dB)
Noise Level: Less than 40μV (in the minimum volume position, 32Ω loaded) Less than 150μV (in the maximum volume position, 32Ω loaded)
Power Supply: AA Alkaline or rechargeable battery x 4
External Power Supply: Micro USB +5v
Consumption Current: 0.19A (battery 6V, No signal) 0.21A (rechargeable battery, 4.8V No signal) 0.21A (USB 5V, No signal)
           0.28A (battery 6V, 1/8 Output) 0.32 A(rechargeable battery, 4.8V, 1/8 output) 0.31A(USB 5V, 1/8 Output)
           0.49A (battery 6V, Maximum Output) 0.61A (rechargeable battery), 4.8V, Maximum Output) 0.58A (USB 5V, Maximum Output)
Size: 97mmW x 132mmD x 40mmH (not include protrusions)
Weight: 440g (with batteries), 382g (without batteries)