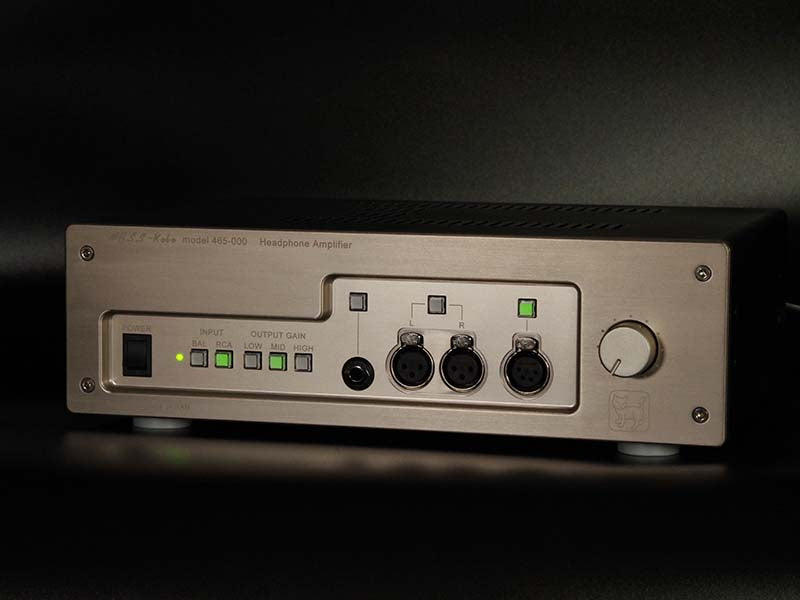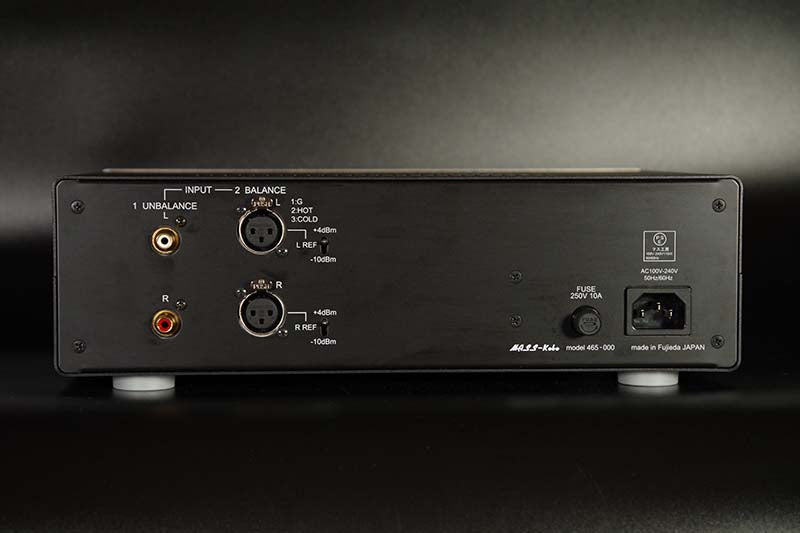 MASS-Kobo Model 465
---
MASS-Kobo Model 465 Balanced Headphone Amp
A balanced headphone amp that inherits the bloodline of Mass Kobo's flagship amplifier, model 406. Similar to the model 406, the new flagship model 465 has a similar clean and easy to listen to sound that is very transparent. The model 465 adopts a true dual mono architecture by separating the left and right power supplies. 
For those who wish to purchase a Model 465:
1. We will accept your order and start production once we have been paid in full. Delivery time is estimated between 1-4 months. Delivery times may vary depending on the availability of parts.
2. Because of the high price of the item, there is an option to have it delivered by M. Masuda at expense of travel and custom duties. Otherwise there is free shipping through FedEx or DHL. The customer is responsible for paying custom duties.
3. Serial numbers will be assigned in the order in which we receive the orders. No special requests will be honored for specific serial numbers.
4. The unit will come with a standard power cable. Please use the power cable of your choice after purchase.
5. As this is a made-to-order product, we cannot accept cancellations after an order has been placed. Please order carefully.
6. We have secured materials for 9 units for sale, but as of August 1, 2022, 7 units have already been sold. The remaining 2 units can be manufactured immediately, but after that, depending on the availability of materials, it will take a longer amount of time before delivery. (4 months or more as of August 1. It may take several years depending on the production supply situation of the parts manufacturer)
Specifications
Model : Full Balanced Stereo headphone amp
Input : Balance = Electronically Balanced XLR3 x2 , Unbalanced = RCA x2
Output : Balance = XLR4-31 x 1 or XLR3-31 x 2(L,R) , Unbalance = φ6.3 TRS
Input Impedance : Balance = 3.7kOhm(XLR) , Unbalance = 20kOhm(RCA)
Reference Input Level : Balance = +4dBm/-10dBm (Selectable) , Unbalance = -10dBm
Maximum Input Level : balance = +30dBm , Unbalance = +20dBm
Maximum Output Level (P-P) : Balance = 32V (with 32Ω loaded, 1kHz, THD+N 0.05%)Unbalance = 22V (with 32Ω loaded, 1kHz, THD+N 0.05%)
(RMS):
Balance = 10.7V (with 32Ω loaded, 1kHz, THD+N 0.05%) Unbalance = 7.4V (with 32Ω loaded, 1kHz, THD+N 0.05%)
Maximum Output without Distortion : Balance = 3.8W+3.8W , Unbalance =1.8W+1.8W (with 32 ohm load, 1kHz, THD+N 0.05%)
Frequency Characteristics : 10Hz - 100kHz (-0.5dB) , 17Hz-50KHz(-0.2dBm)
Power Supply : AC100 - 240V, 50/60Hz Electric Energy Consumption : 0.9A (with AC100V)
Size : 330mmW x 247mmD x 104mmH (Knob, projecting part of connector not included )
Weight : 6.1kg (without the power cable)