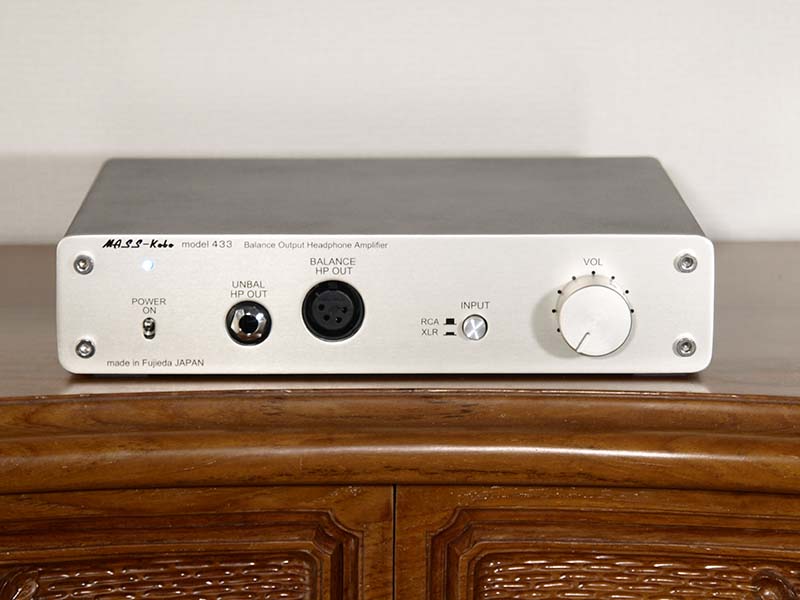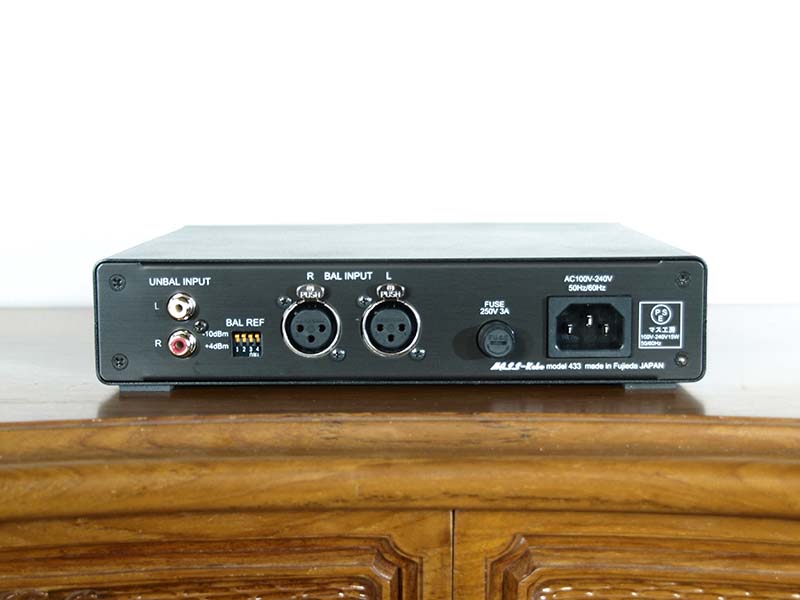 MASS-Kobo Model 433
---
MASS-Kobo Model 433 Fully Balanced Headphone Amp

MASS-Kobo's mid-class headphone amplifier inherits its sound from the previous flagship model 406 and the high-end model 394II. Combining this sound quality with the output circuit of the model 402 used by the Japanese broadcasting station NHK, delivers a reference quality sound.
XLR has +4dBm/-10dBm reference balanced input selection. RCA has -10dBm reference unbalanced input, and is equipped with a worldwide power supply (AC100V-240V, 50/60Hz) for overseas use.
A customers review:
Mr. U - The model 433 is wonderful. I listen to it everyday. The sound is rich with very low distortion. I am listening with the Final D8000 through balanced and it makes them twice as good.
I have listened to the model 433 everyday for about two weeks, and the sound is rich throughout the entire frequency range. You can feel the tangibility of instruments playing right in front of you. I believe the model 433 represents a very high cost to performance model.
Mr. H - I have started listening to it, but it is completely different from any other headphone amp I have used. The sense of realism and power is impressive and yet its still capable of being delicate. I am rediscovering the sound of CDs that I have listened to before. It's more fun each day!
Mr. N - I haven't listened to it much yet, but I am very happy with it. It was a great buy even if I bought it without listening. The sound of my headphones, not just the D800, has changed considerably. A sense of stability...or should I say, that it makes everything sound pleasant with a solid foundation. The improvement of the D8000 was as expected in a sense, but the unexpected change was the Hifiman Edition X's. They used to sound overly polite but have completely changed. They are dramatically more enjoyable now. The Edition X feels better than the D8000 now, so I'm happy to say that it might end up being my main headphone.
Specifications
Model : Full Balanced Stereo headphone amp
Input : Electronically Balanced = XLR3-31 , Unbalance = RCA
Output : Balance = XLR4-31 , Unbalance = φ6.3 TRS
Input Impedance : 3.7kΩ (XLR)/ 12kΩ (RCA)
Reference Input Level : +4dBm or -10dBm (XLR)/ -10dBm (RCA)
Maximum Input Level : +25dBm (XLR)/ +10dBm (RCA)
Maximum Output Level (P-P) : Balance = 18.8V (with 32Ω loaded, 1kHz, THD+N 0.05%)Unbalance = 12.2V (with 32Ω loaded, 1kHz, THD+N 0.05%)
(RMS): Balance = 6.2V (with 32Ω loaded, 1kHz, THD+N 0.05%) Unbalance = 4.1V (with 32Ω loaded, 1kHz, THD+N 0.05%)
Maximum Output without Distortion : Balance = 1.2W+1.2W , Unbalance = 500mW +500mW(with 32 ohm load, 1kHz, THD+N 0.05%)
Frequency Characteristics : 10Hz - 100kHz (-0.5dB)
Power Supply : AC100 - 240V, 50/60Hz
Energy Consumption : 0.5A (with AC100V)
Size :
232mmW x 210mmD x 48mmH (except the rubber feet and projections)
232mmW x 240mmD x 51mmH (including the rubber feet and projections)
Weight : 2.4kg (without the power cable)