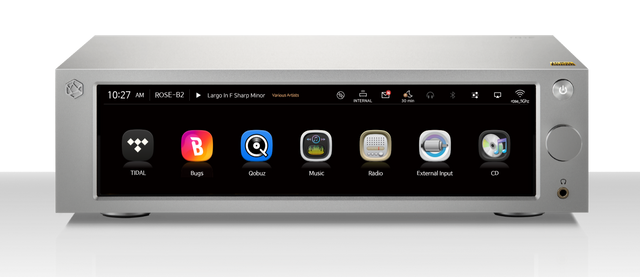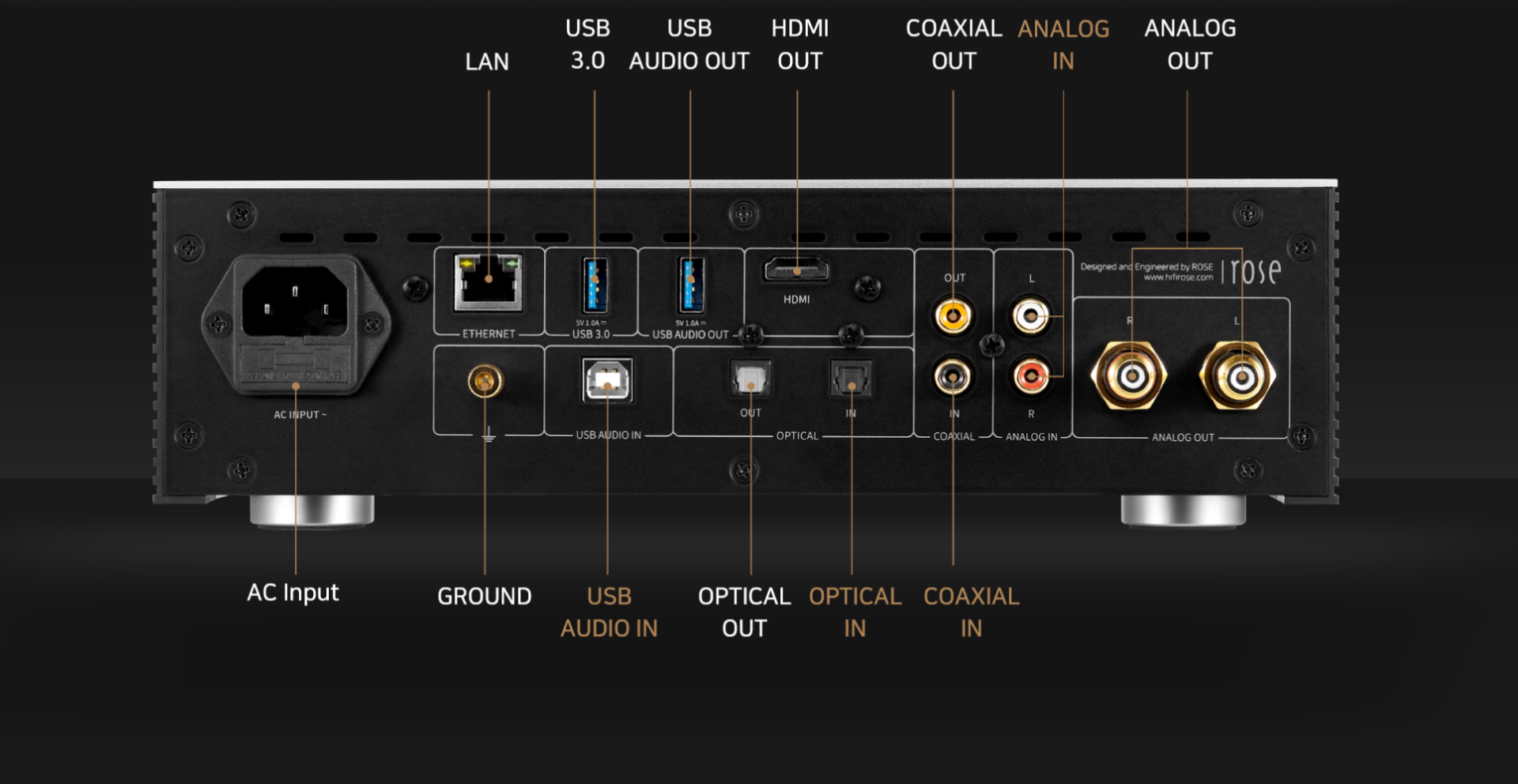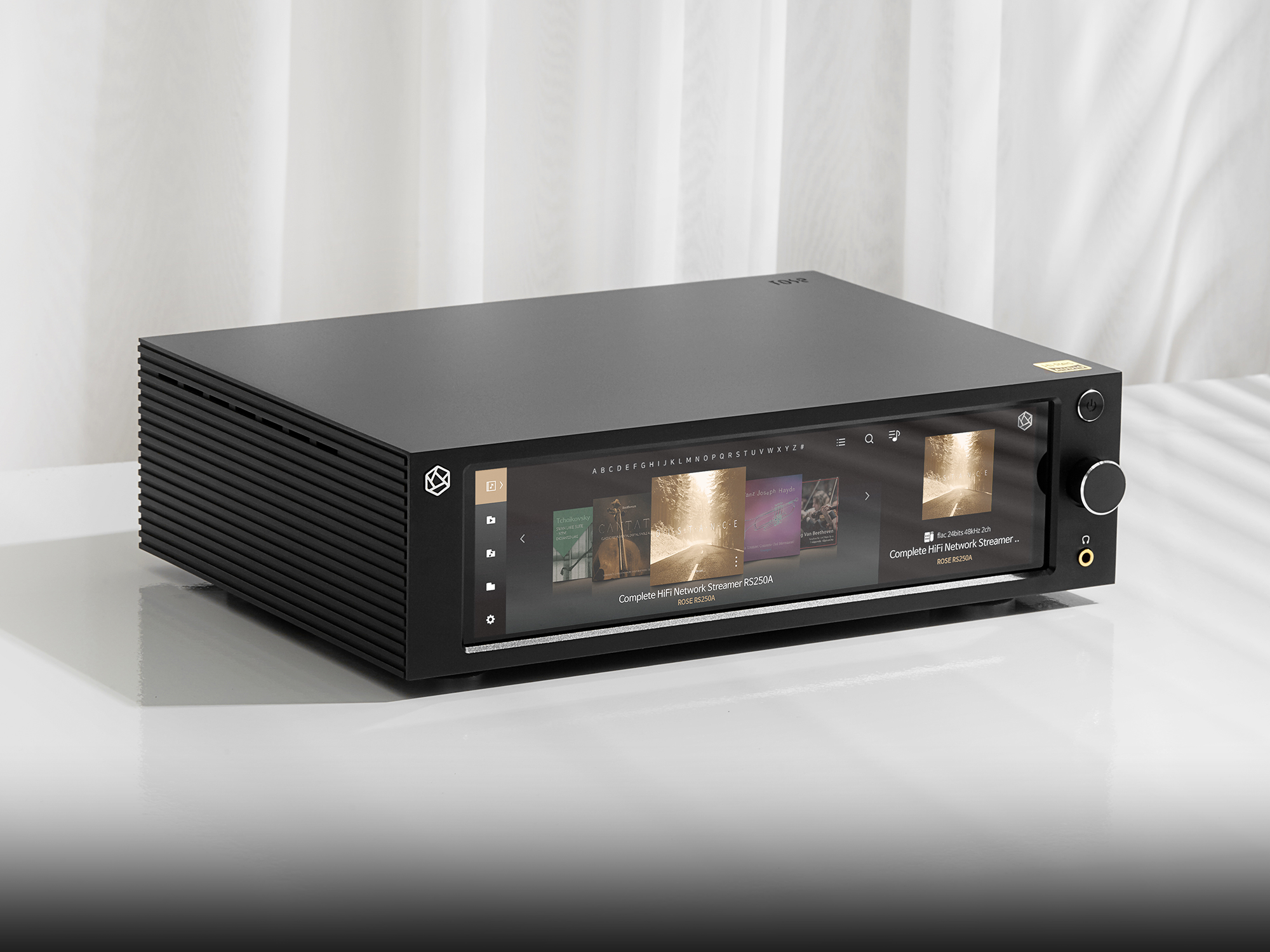 HiFi Rose RS250A
---
HiFi Rose RS250A Network Streamer

A Roon Ready, MQA-certified streaming DAC based on a Sabre chip with a linear power supply, and an 8.8" Ultra HD 4K touchscreen
It won't spin your records. Sometimes it's nice to start with the one thing a product won't do, especially if it's like the RS250A, a network streamer that is capable of so much. Following up on the success of the HiFi Rose RS250, the all-new RS250A Network Streamer adds features to enhance and improve on an already exciting, user-friendly, graphically rich streaming experience. Connect the RS250A to your network via Ethernet or WiFi, and connect it directly to a power amp, or to a pre/power combo, or to your favorite DAC.
In terms of performance improvements in the RS250A, look to the digital side of the product where a new DAC chip and clocking components create an even better sonic experience, compared to the original RS250. 
The RS250A offers one analog stereo RCA input, so you can use it as a preamp as well. A headphone output on the front panel makes it easy for you to enjoy the product with headphones when necessary. The RS250A offers a high-quality anodized aluminum body with excellent thermal and isolation properties.
The Controls

HiFi Rose is rightly praised for its beautiful Ultra HD 4K touchscreen that offers  a wide viewing angle and vivid colors. The intuitive and convenient interface, high-definition album information, and video at 60 FPS combine to provide you a rich visual experience. Control is augmented with a front volume knob. 
The RS250A comes with a physical Bluetooth remote control, and can also be controlled via the ROSE Connect app for iOs or Android.
The DAC
The RS250 uses the ES9028 Pro Sabre chip with proprietary processing that offers a low-noise, low-distortion, ultra-high-resolution sound with rich analog density. Sampling rates go up to PCM 32bit/768KHz and native DSD512 (22.5792Mhz).
Many Ways to Play
Apart from all the expected online services, you can connect an optical drive via USB and play or rip CDs. For subscription streaming compatibility you can choose Qobuz, Tidal, Spotify, internet radio, and many more. The RS250 is also Roon Ready and fully MQA-certified.
The RS250A allows onboard storage, and can recognize up to a 4 TB internal SSD and 10 TB external HDD. It will also find and play music on your NAS and other music servers.
Specifications
Dimensions:
10.9" x 8" x 3"
Weight:
7 lbs.
Finish:
High-quality anodized aluminum front-top plates.
Available in Black or Silver finishes
Display:
8.8" Wide view multi touch screen
Audio In:
Analog: 1x Line Unbalanced RCA
Digital: 1x Optical, 1 x Coax, 1x USB, Bluetooth
Audio Out:
Analog: 1x Line Unbalanced RCA, 3.5mm Headphone Jack
Digital: 1x Optical, 1x Coax, 1x USB
Video Out:
1x HDMI 2.0 ( up to 3840 x 2160 / 60Hz )
DAC Chip:
ES9028 Pro
Network:
Ethernet 10/100/1000 BASE-T
WiFi (802.11 b/g/n/a/ac) 2.4Ghz/5Ghz Dual Band
Media Support:
2x USB3.0 (File system-NTFS/FAT32, supported capacity- up to 10TB)
1x SATA3.0 SSD (File System-NTFS, Supported capacity- up to 4TB)
Network Support Protocol-SMB/FTP/WebDav
Remote:
BT Remote control
Remote App:
ROSE Connect (Android, iOS)
In the Box:
AC adapter, Quick Start Guide, BT Remote control, Battery (AAA) x 2, Screw for SSD x4, Screwdriver