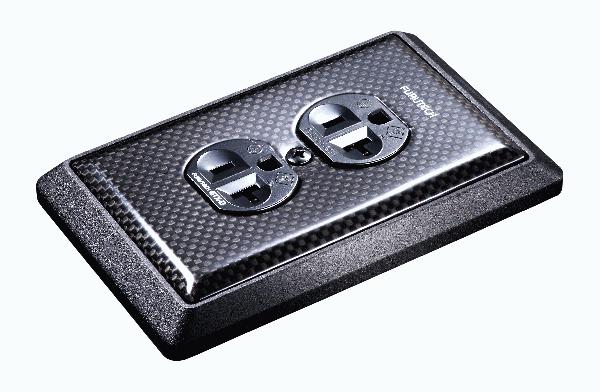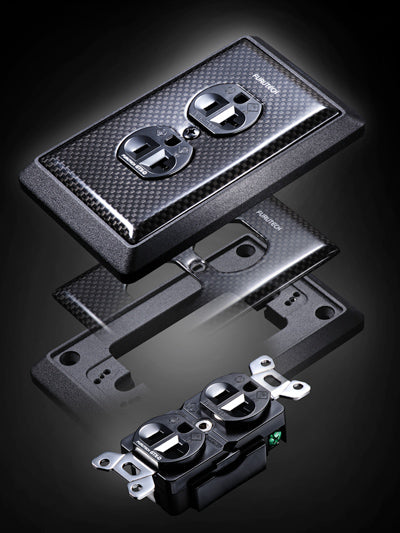 Furutech GTX Power Outlet Package
---
GTX DR NCF, GTX Wall Frame, and 106D NCF Cover as a set


GTX DR NCF:
An excellent Furutech power product, manifesting a devotion to best performance in every element of AC and signal transfer Considering that what you actually hear is in a very real sense the direct product of the incoming AC then the final few feet are of prime importance for best performance. Of course everyone would love to make pure-copper receptacles, but its malleability makes pure copper a poor choice. That's why you'll find phosphor bronze or brass in some receptacles. Furutech's intense engineering scrutiny has resulted in an industry-first, a technique allowing us to use special Furutech 24k gold-or rhodium-plated a(Alpha) pure copper conductors strengthened and sprung by our innovative nonmagnetic Stainless Steel Conductor Spring System that keeps a firm grip yet won't damage male connector blades or their plated surfaces. Even the screw-down pressure plates are curved to maximize contact area. The GTX receptacle can be summed up in a word; virtuoso!
SPECIFICATIONS
Rhodium  Pure Copper Conductor (0.8mm) Nonmagnetic stainless conductor spring system
Body material: Nylon/fiberglass with piezo ceramic and carbon damping material Cover material: Polycarbonate Parts set with nonmagnetic 2.0mm-thick stainless brace plate Specified for wire diameters of 4mm (set screw)
Dimensions: 104.0 mm (L) x 47.2 mm (W) x 28.0 mm (H) Total attention to detail and build quality extends right down to a specially designed patent-pending conductor pressure plate (see below) that increases contact area Furutech spade terminal FP-209 recommended for 10 AWG wire



GTX Wall Frame:
Beautifully crafted special grade aluminum CNC processed chassis effectively shields against RFI (Radio Frequency Interference).
Material thickness: chassis plate 13.0mm Finished with an extremely effective non-resonant coating.
Includes Special Teflon damping foil and SUS Receptacle fixed screw 4 pcs (M3) and SUS Plate fixed screw 2 pcs (50mm overall length).
Suitable for use with GTX-D or GTX-S receptacle and 104-D or 104-S carbon fiber finished cover. Dimensions: 135.0mm (L) x 86.0mm (W) x 13.0mm(H) -0/+0.3mm
106D NCF Cover:
The NCF Damper Outlet Cover 106-D NCF is Furutech's "Top of the line" Receptacle Cover. After a multitude of tests involving the best in damping materials, Furutech brings you its masterpiece. This combination of carbon and NCF will be the final touch to your complete AC chain. Nano Crystal² Formula (NCF). Incorporated into selected Furutech products, NCF features a special crystalline material that has two 'active' properties. First, it generates negative ions that eliminate static. Second, it converts thermal energy into far infrared. Furutech combines this remarkable material with nano-sized ceramic particles and carbon powder for their additional 'piezoelectric effect' damping properties. The resulting Nano Crystal² Formula is the ultimate electrical and mechanical damping material. Created by Furutech, it is found exclusively in Furutech products.
Multilayer Structure description: NCF Coating Material (Matte finish) Clear Hard Coat Layer Hybrid NCF 3K Carbon Fiber Non-Magnetic Stainless-steel Base Plate NCF Carbon Fiber Clear Hard Coat Layer NCF Coating Material (Matte finish)
Features: Formed from a hybrid NCF carbon fiber sheet over a non-magnetic stainless-steel base plate with a special NCF coating material finish - for the most effective damping faceplate available.
New Improved Outlet Cover for GTX-D NCF / GTX-D / FPX duplex receptacle designs.
Stainless fixed screw size? M4 X 12mm (L), Cover overall size?72.2 x 117 x 5.5 mm±0.2mm Net Weight: Net Weight: Net Weight: Net Weight: Net Weight: Net Weight: Net Weight: Net Weight: 74 g approx. : ± 2g)