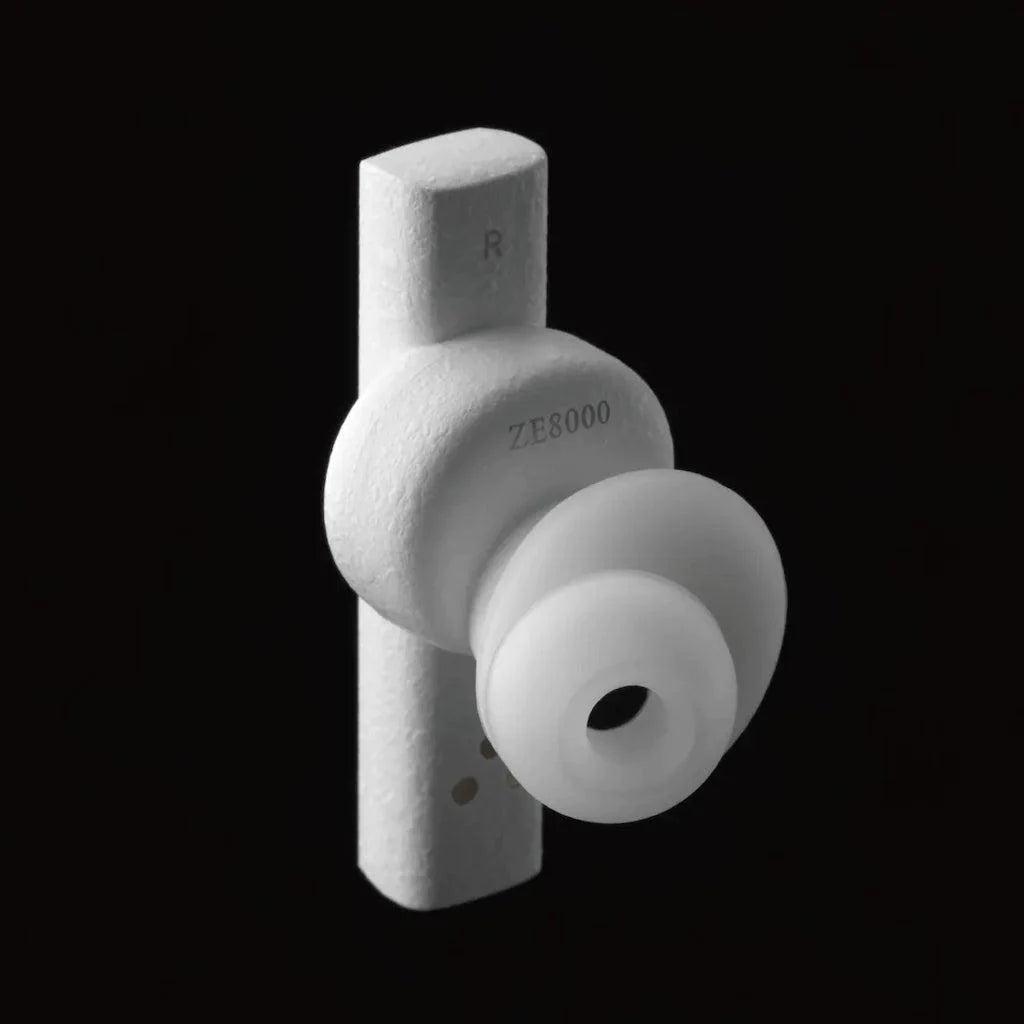 Final ZE8000
---
Final ZE8000 - True Wireless Hi-Fi Earphones
Final Audio's all new ZE8000 TWS sets a new standard for a completely wireless earphone
HiFi True-Wireless IEM with "8K Sound"
Customized footprint for maximum comfort
Enhanced ANC technology with 4 separate modes including "wind cut" and "voice-through" modes
Custom EQ and precise volume control using Final CONNECT app
IPX4 Life Waterproof Compatible
Bluetooth® 5.2 with SBC, AAC, Qualcomm aptX, and aptX Adaptive codecs
An Irresistible Music Experience On-The-Go

By deviating from long-term standards and using new physical properties in the ZE8000, music sounds overwhelmingly more detailed than before. With "8K SOUND," once you hear and get used to it, there is no going back.
And with new features and designs such as separated battery and circuit board to improve comfort and fit, ANC that does not adversely affect the sound, and customizable listening modes and volume control, the ZE8000 realizes all the important and practical functions that most TWS owners would want in their go-to wireless earphone.
8K Sound
In video standards, 8K is the next generation. There is increased display information with such high definition at 16 times the number of pixels over the current standard all resulting in an overwhelmingly high quality video.
The same is true for sound quality tuning. It's been a common approach to emphasize the high range in order to produce a sense of resolution, or to emphasize the low range to create power. However, with 8K SOUND, by thoroughly increasing the amount of information in the sound, you can feel the texture of the original sound as intended and feel previously unnoticed sounds in your favorite songs.
So Comfortable You'll Forget You're Wearing it
The comfort of wearing earphones is determined by the size of the portion that enters into the ear. Completely wireless earphones tend to be bulky because the battery and circuit board are housed inside the housing. Wearing such earphones presses the ears from the inside and accumulates fatigue. The ZE8000 has a design that separates the circuit board and battery from the portion that attaches to the ear in order to make that part as small as possible. In addition, the special eartips that touch the ears are covered with silicone, so they fit gently on the ears and are firmly held to prevent from falling off. There are 5 sizes included for the best fit.
True ANC and Unique Listening Modes
General ANC (active noise cancellation) typically has unwanted effects on playback sound such as time delays, low frequency muffling, and pressure-induced "ANC sickness." The ZE8000 is equipped with ANC that prioritizes sound quality and comfort without feeling oppressive using a proprietary algorithm.
In addition to the default ANC mode, there are 3 other modes for listening:
Wind cut mode: reduces the "wind blowing sound" noise caused by the wind hitting the microphone on the earphone body.
While listening mode: music playback volume remains the same, but you can hear sounds around you. Eliminates the unnaturalness of loud sounds such as footsteps, and is a natural sound capture function. You can enjoy music as background music while checking ambient sounds during running or working.
Voice through mode: Automatically lowers music playback volume to make it easier to hear the surrounding sounds. This is effective when temporarily listening to outside sounds such as train announcements. You can talk without taking off the earphones.
Under the Hood
In order to realize 8K SOUND and implement more accurate oscillation, Final has newly developed an ultra-high precision and ultra-low distortion driver "f-CORE for 8K SOUND." A large-diameter diaphragm equivalent to a unique diameter of 13mm is fixed via special silicone without adhesive. An adhesive-free manufacturing method achieves a lightweight diaphragm with high precision.
Also, equipped with an AB class amp, not only is the distortion of the music signal reduced, but the SNR is also improved so you can experience improved attack from silence. In addition, the amp output section is equipped with a thin film polymer multilayer capacitor (PMLCAP), a more expensive but higher quality solution to suppress amp distortion.
Specifications
Communication: Bluetooth® 5.2
Supported Codecs: SBC, AAC, Qualcomm® aptX™ Snapdragon Sound™, aptX™ Adaptive
Playback Time: Up to 5 hours | Case included: Up to 15 hours
Rapid Charging Playback Time: 45 minutes of music in 5 minutes
Charge Time: earphone body: about 1.5 hours | charging case: about 2 hours
Microphone: (x2) "Beam-Forming" microphones
Waterproof Rating: IPX4
In the Box
Charging Case
Final ZE8000 Eartips: SS/S/M/L/LL
USB Type C Charging Cable
Acoustic jig
Dust Filter