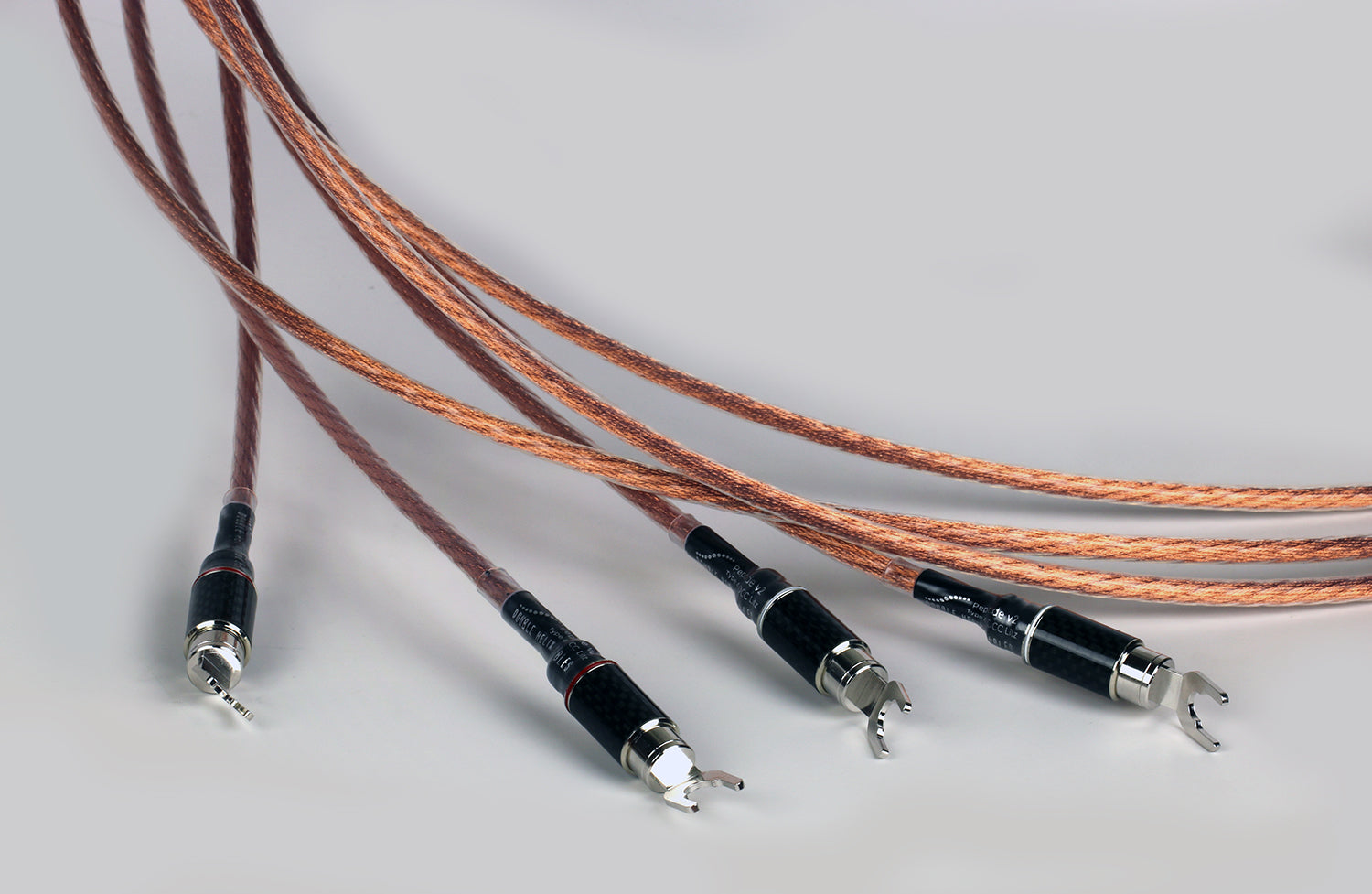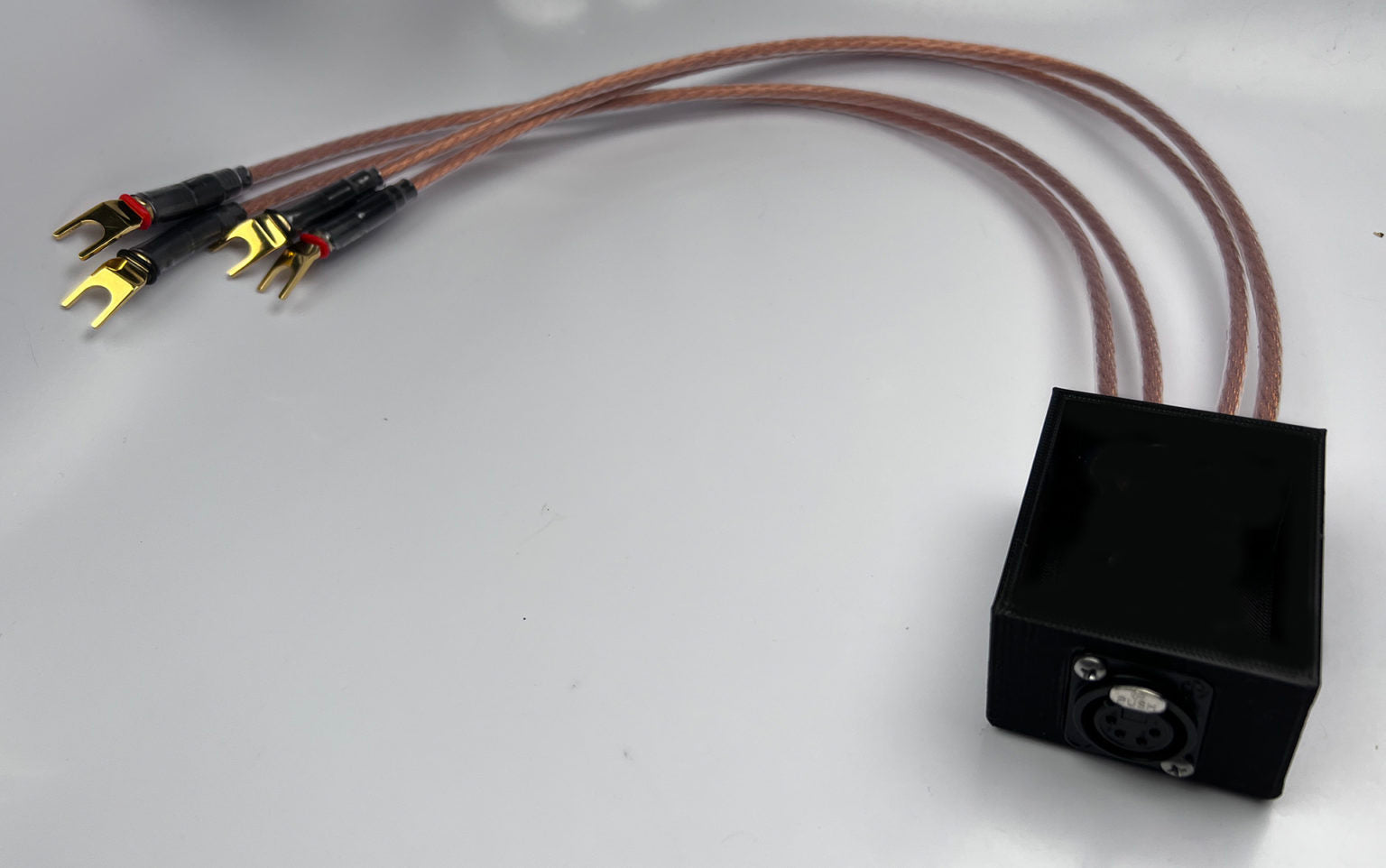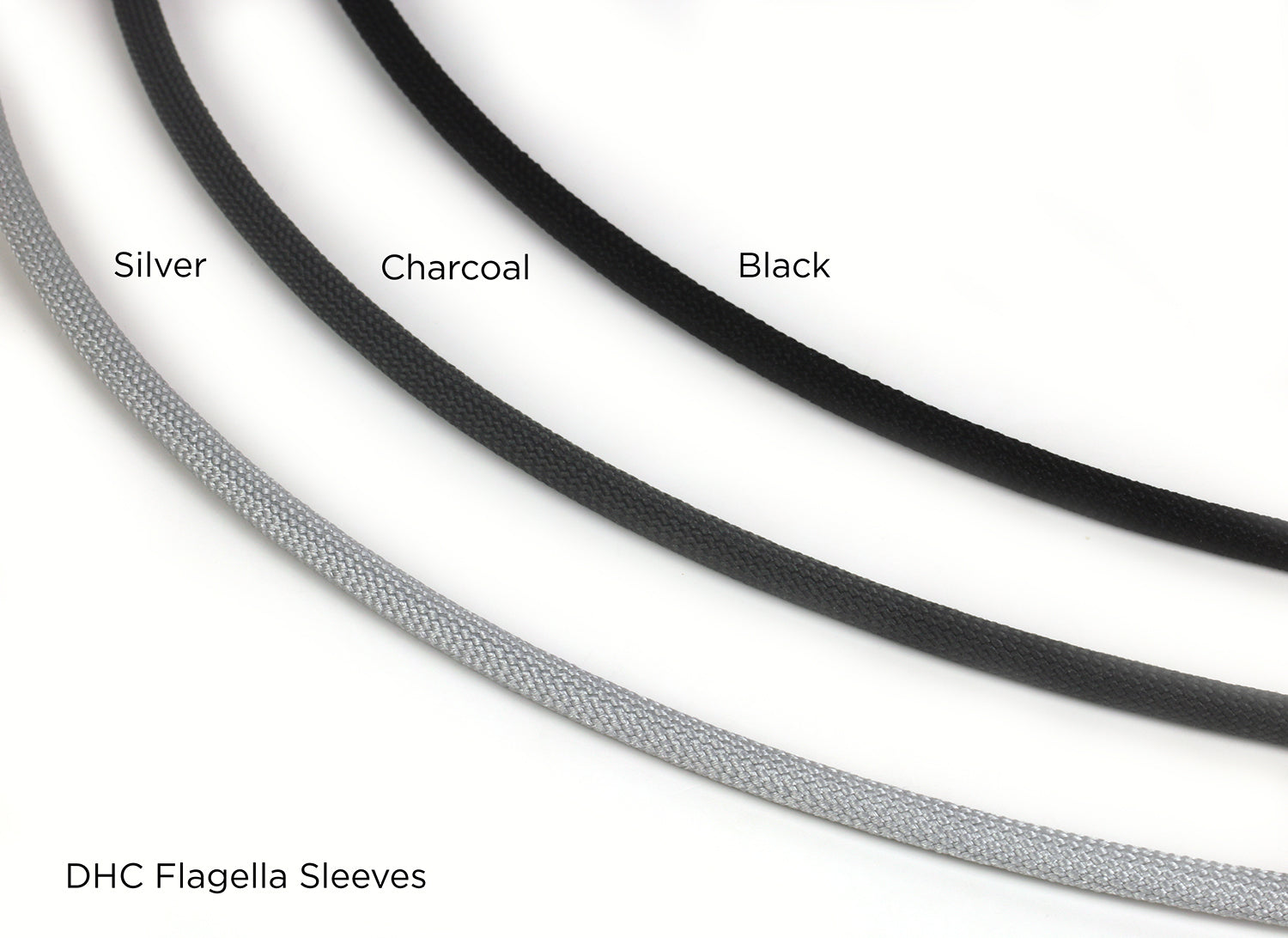 Double Helix Cables Flagella Reference OCC Litz Speaker Cable
---
DHC Flagella Speaker Cable

New – connect Susvara, Abyss, HEDD, and other extreme headphones to your power amp with 11awg power…
An all-new offering from DHC – bringing the world's highest performing wire to speakers.  We are confident that the DHC Flagella speaker cable will dethrone every other cable on the market with an unprecedented design.  Speakers we have tested this cable with underwent a remarkable transformation, with an ethereal soundstage expanding well past the walls of the room, silky highs, and an incisive and penetrating bass response.  In short, this cable does what DHC's best headphone cables do, using similar technology taken to its theoretical limit — realism and detail are improved 100% over a comparable design with traditional copper conductors.  
Includes a complete set – four spade-spade cables,  left & right positive & negative connections.  Simply connect them one at a time individually.  
A cable of many firsts.

*   First OCC litz speaker cable
* Interface box model with 3D-printed enclosure lets you connect 4-pin XLR headphones like Susvara to any power amp
*   First true type 6 litz audio cable
*   First 4-tier litz design – 7 strands x 5 groups x 6 groups x 6 groups
*   43 cores – complete damping and anti-static prevention at every strand organization level
*   Combination of conductive carbon based center core and pure cotton outer cores
*   Variable strand sizing
Interface box model with 4 pin female XLR and 2′ leads.  A secure, removable gel adhesive secures the box to the top of the amp or dac.  
DHC Flagella is the first fine-stranded OCC copper litz speaker cable that we know of, but that's not all it will be known for.  It starts with the wire, Peptide Monolith — the most complex litz ever manufactured for audio, made with the world's first true type 6 design in audio cables.
At the center of Peptide Monolith is our conductive core first employed in the flagship Complement3.  It is a flexible, compliant material with semiconductor properties that is ideal for both dampening and mitigation of static buildup, keeping the environment charge-neutral inside the wire.  This core is able to interact with the 36 outer strand groups – arranged into six groups of six.  
The 43-core layout is able to elevate the performance of litz, which is designed to alternate the position of each individually-insulated strand of OCC copper between the inside and outside of the wire, reducing skin effect by preventing the signal from concentrating solely at the surface.  With the additional cores, strands are kept out of signal "dead spots" and are localized exactly where they need to be.
Type 6 litz is the most complex variety of litz – it is made of a center damping core surrounded by six type 4 groups, each of which has a damping core plus six type 2 litz groups.  DHC Flagella actually goes beyond the reference design of type 6 litz, as its 36 type 2 litz groups each have a pure cotton core, while the original type 6 designs from litz manufacturers are 7-core.  Previous type 6 designs in audio have consisted of small outer cores with strands directly served around them, arranged in 5 or 6 groups around a center core, a simplified type 4 design or a more dampened type 2 design.
It is important to note that the DHC Flagella is a true litz cable – made of hundreds of tiny, individually insulated strands – not a "litz braid" of large conductors.  There will not be other models or successors to this cable – it is our ultimate statement design, and it would only be possible in this gauge and configuration.  Like DHC's Silver Spore flagship, it is a dream design that we could not improve or revise with an increased budget.  
The metal.

DHC Flagella's building blocks are an 11awg conductor, our largest yet – more than 20 times the size of our Peptide V2 wire.  1260 strands of pure OCC copper in varying gauges (per signal) are protected by litz enamel, a micro-thin, invisible layer of insulation that prevents oxidation and keeps the wire looking pristine.  A clear Teflon insulation with a high dielectric constant is tightly extruded over the litz construct to maintain its integrity.  At 6.2mm outer diameter, this wire is monstrous compared to our headphone designs, but is quite flexible and is easily routed from your gear to your speakers; the fine stranding ensures it can be effortlessly bent and arranged for decades without risk of damage as with solid-core wires.
Individual cables.

Every since its inception, DHC has believed in proper isolation of the audio signals.  In our experience, speaker cables do not benefit from shielding or elaborate braid patterns – with Flagella, each signal is kept pristine as its own individual cable, rather than woven together with the other signal.  As such the cables are well dampened both externally and internally (thanks to the type 6, 43-core internal dampening scheme).
Custom sleeves.
DHC Flagella has a very, very durable outer Teflon extrusion that will protect the strands indefinitely.  While we recommend enjoying the cable's looks and forgoing sleeving, one can customize the cable's style, with several sleeves custom-manufactured for DHC available.
Applications.

Terminated with the very best Furutech ultrapure copper/gold-plated spades.We also offer a matching set of jumpers, 12 inches in length, with identical construction and connectors.