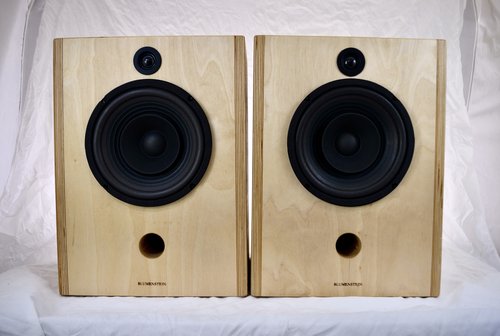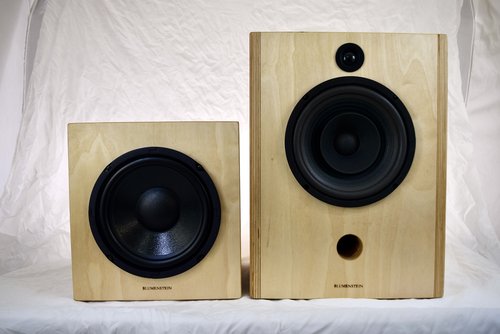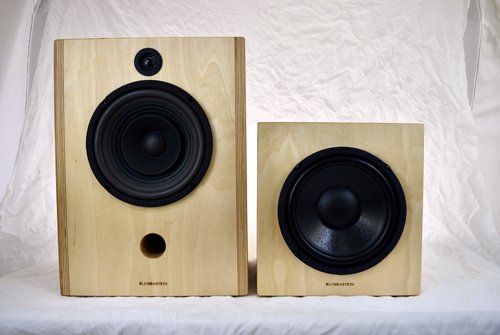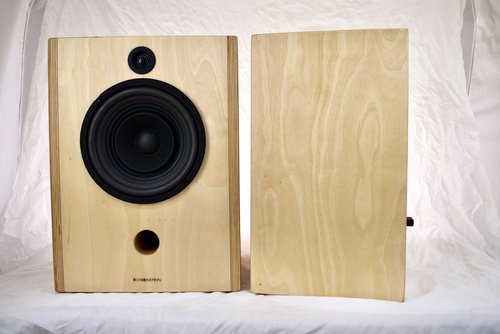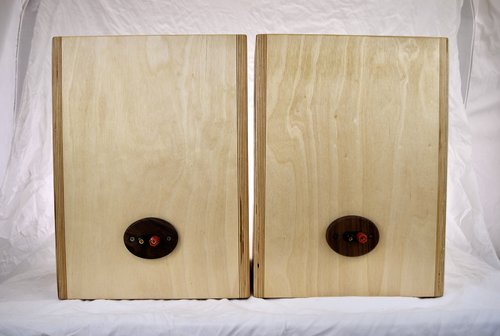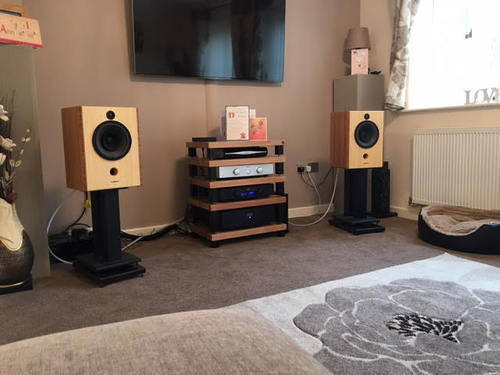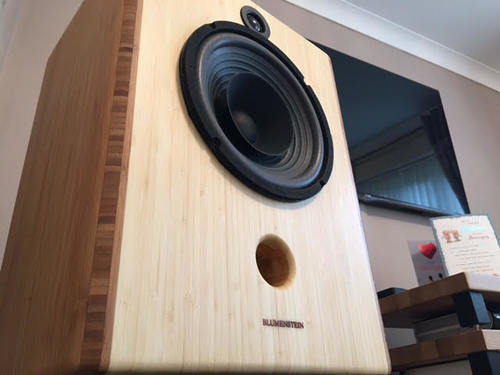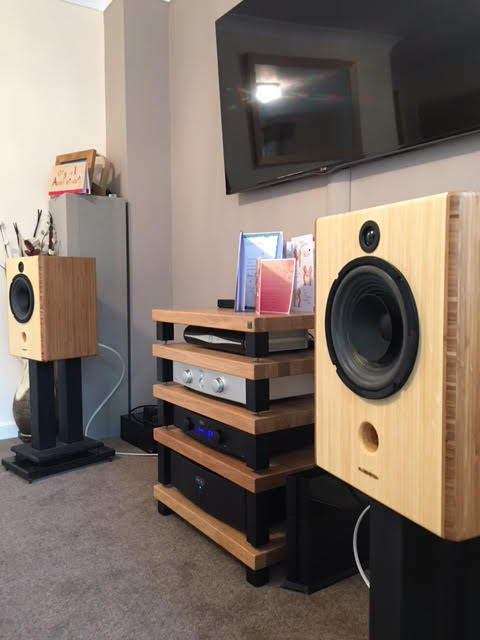 Blumenstein Triton
---
Blumenstein Triton 8" TT Full-Range pair
Triton speakers, the messengers of the sea, are adept at the refined, emotive playback of every musical style between classical music and hip-hop. They create a warm, lush, and deep soundscape. Their sonic pedigree is due to their reliance on the best of vintage and modern technologies. They create soft yet bright, full spectrum sound from an all paper dual cone for 50 to 10khz. A soft dome neodymium super tweeter covers 10khz to 22 khz
Tritons are extremely versatile. They are more efficient than the Orcas (95db vs 92db), yet they handle over 10x the wattage of an Orca 3" full-range, meaning they have more usable dynamic range.
Tritons are well suited for any situation ranging from small to large living room, garage shop, dance party, warehouse, backyard, outdoor party, small vocal PA or vocal monitoring system, as well as attractive, yet extremely capable stage monitors. In almost any listening setting, the Triton will deliver a pleasing mix. suitable for nearfield or large living room listening. They bring voices alive and at scale.
The Triton's 8" all paper dual cone full-range drivers are hard wired without any signal filtration. Most likely, unless you are listening very carefully, you won't notice that a tweeter is even there. The combined sound of the Triton drivers' full range driver plus super tweeter is smooth, detailed, dynamic.
As with any serious HiFi setup, you will enjoy your Tritons the most with one or two subwoofers, however, we have many clients using their Tritons without a subwoofer
Features
All paper dual cone 8" full range driver

1" ferrofluid-cooled neodymium magnet super tweeter

Solen capacitor
Specifications
Dimensions: 17" H x 13" W x 12" D

95dB sensitivity

60-watt RMS power handling

sounds great with 1 watt per channel SET amplifiers or high power (100+ WPC) solid state or digital amplifiers

8 ohm

Bass goes down to 50Hz, so they can be used with or without a subwoofer

Excellent sound quality at very low or extremely high volumes

Selection of any material will yield nearly identical acoustical qualities due to advanced internal bracing and tuned thicknessing

Birch Plywood: 1 month to delivery

Maple or Walnut Veneer: 3 months to delivery
Amplifier Power Recommended
1 watt - 300 watts available per channel depending upon the desired kind of performance. Low powered SET tube amplification will more than liven up your living room, and with higher power solid state and digital amplification technologies, Tritons will play all the way up to the levels needed for public address systems, live rock or even dub reggae music. Just a pair of Tritons will handle most dance parties. But if you have larger audiences, a 4 pair array like the revolutionary Octopus cabinet design does not lose pace, and will lay out a massively clean mix to satisfy larger parties. 
Triton Design Background
The Whole is Better Than the Sum of the Parts
An Initiative Since 2003
The Tritons are the result of finding the right combination of pieces around these drivers to make the best sounding medium sized bookshelf speaker we could. As it turns out, Terry Cain actually had a pair of these same 8" pioneer type drivers as the shop HiFi speakers. He had been a long time fan of them - installing them in hundreds of his projects from the 70's thru the early 00's.
Over the years, I had chances to own an array of full range models from various manufacturers. There would often be so much about the sound that I would initially gravitate towards, but then eventually a wrinkle in the sound would come to light and then that would become all I could hear in that driver. For a variety of reasons, the Pioneer 8" full range somehow continue to strike the ever elusive balance of always sounding good with anything between Classical, rock, and experimental electronic. This likely has to do with the original and reproduction Pioneer 8"'s prodigious production numbers in parallel with generations of music history.
The Triton should be thought of as a speaker that sounds mostly like an Orca yet that simply goes up to much higher volumes.
The Midrange Journey
By now, I have owned dozens and dozens of different full range drivers, from almost every price-point and from nearly every pertinent full range driver manufacturer domestic and abroad. I tried out most of these drivers in more than one test enclosure of my own design, after building what the factory recommended. Eventually, I realized that I was going to get nowhere if I kept hopping on other peoples' bandwagons - chasing after ever improving specification figures and ever more exotic construction and flavor-of-the-month design methodologies like most of the competition in the speaker industry does. I had to just stick with what I like.
Each time I kept circling back to the Pioneer 8" design I was able to tune them to ever higher levels of performance. This process of refinement took place gradually over 12 years. The Pioneer's inherent cone construction is light and simple. The most important trait - rarely for almost any 8" full range, the Triton driver does not sound too bright in the upper midrange. This chameleon-like, creamy midrange, gave me the ideal foundation upon which to build.
Early Iterations
Various iterations of the Thrasher were in continuous production since 2006 under the Blumenstein name, however, the history of the Thrasher goes back much further than that. As a quick point of reference, the early Thrashers became known for their "skater punk" rough particle board finish but excellent sonics. (ToneAudio Review).
Triton Testimonials
"Can't say enough about all my wonderful Blumenstein instruments (orcas first then the Tritons)! Recommended these to anyone who will listen. "- Allen J. M.
"When you purchase the hardware Blumenstein [Audio] creates, you are actually accessing a priceless assemblage of experience, soul, intuition, and dedication (obsessiveness) focused on the experience of music and the history of its reproduction. Blumenstein [Audio] is a remarkable convergence of entrepreneurship, craftsmanship, and art. I highly recommend you partake."- Chris
"Of all my systems, this one comes the closest to offering true sonic nirvana. "- Jim