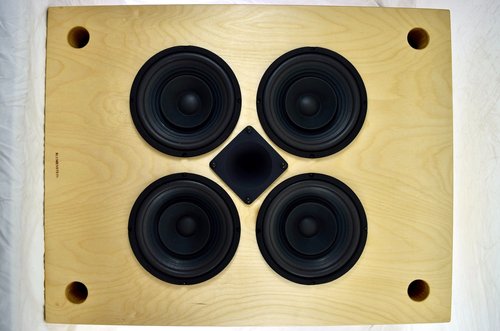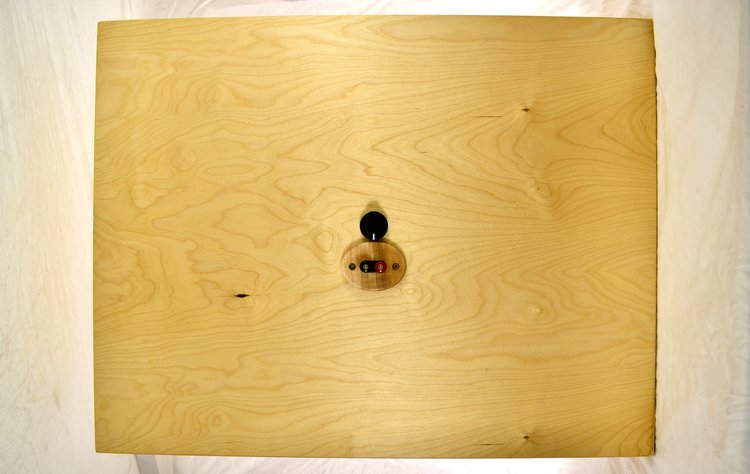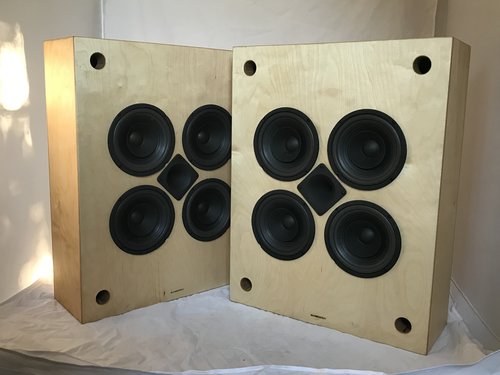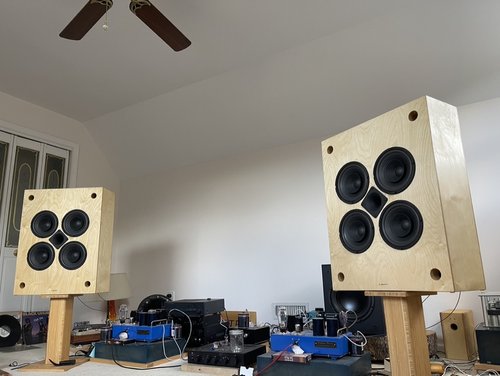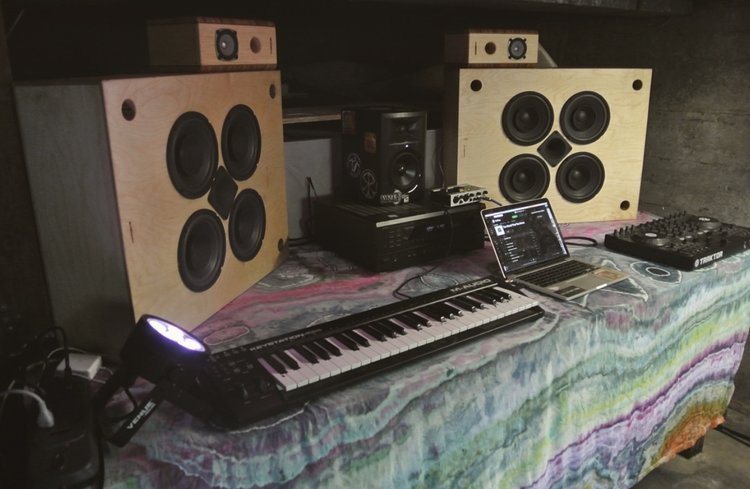 Blumenstein Octopus
---
Blumenstein Octopus 4x8" TT Full-Range pair
The Octopus 4x8" is a high fidelity home audio or public address speaker.
Most modern PA systems focus on cold accuracy. In the process of chasing that ideal to an unnecessary end, the modern PA design paradigm forfeits the opportunity to be a logical extension of the musicians' instruments. The Octopus, however, was designed with help of luthiers and music historians, and therefore has a different philosophical goal than most PA systems. The aim is to make the act of experiencing music something truly special.
PA use: indoors or outdoors, the Octopus can fill challenging spaces, naturally avoids feedback, sounds intelligible, is easy on the ears even at high volume, and is a confirmed crowd pleaser.
Bookshelf the Octopus are just 11 inches deep, 22.5 inch wide, 29 inch tall.
Stand mount the Octopus and add a subwoofer or two for the best results.
At their core, just like every other Blumenstein Audio speaker design, the Octopus are beautiful pieces of audible furniture. The sanding and finish quality we apply to these behemoths is the same as our smaller speaker cabinets - a time consuming process that yields an end result that is without peer in the audio world.
The Octopus blend in visually and sonically with fine decor better than the typical "carpeted black box" PA system. They are heirloom pieces of woodwork that will age gracefully and blend with any building's architecture - from the future or the past.
Octopus are based on the successful Triton 8" full range design. I designed the internal bracing structure in collaboration with a local guild of luthiers (guitar makers). I can guarantee you haven't heard a speaker that sounds quite like these do before, but the Octopus' carefully crafted sonic signature is also refreshingly familiar. The solid wood internal bracing that beautifies the sound of my smaller speakers truly takes effect when it is expressed at the large scale/power domain of the Octopus.
I am personally steeped in the classics of audio history (I love them all!). Probably my greatest inspiration to make this design was the Altex 604 duplex, which was a classic 15" woofer/1" tweeter based concentric speaker design. While those do sound wonderful, they necessitate an absolutely massive cabinet - almost the size of a refrigerator. In the Octopus' design, I sought a similar listening experience, but an updated frequency response from the 604's known quirks. Using more of the paper cone fullrange driver's capabilities out to 10 khz makes the midrange feel more direct and emotive, yet more agreeable to the increased demands of modern music.
The cabinet+driver weight is only 55 lbs each. The bass reflex ports on each corner additionally work as carrying handles. This makes carrying them a cinch!
Octopus are 101 db efficient and rated at 250 watts RMS each (500 watts/pair). So that means the first watt gets you to 101db. then you have 249 watts of power handling left. The Octopus give you a usable 120db for the audience before they start giving you hints that they are getting close to their upper limit. The Titanium diaphragm horn loaded compression driver tweeter gives recordings a silky smooth sonic texture, unearths deep details with ease.
Who are these speakers for? Anyone! Do you like your music to sound good played loud or soft from the same set of speakers? Then you really need to hear these!
The only parts of this portable PA speaker that I do not design to be lightweight are the magnet structures, which use conventional large ferrite magnets. I feel that ferrite magnets offer a better balanced, smoother sound quality than the lightweight/ typical cost saver neodymium magnets which have become the industry standard for mass market PA systems. The magnetic structures alone inside one Octopus cabinet account for over 20 lbs of the entire speaker weight alone. Meaning that the wooden cabinets are actually only around 20lbs ea.
Most other leading brands of PA systems are designed to be like battle bunkers to survive in a noisy bar, rain and sun, or to handle heavy metal music at distortion inducing SPL's. But the second you bring those ugly painted boxes inside to a wedding dance party for instance, and they quickly stand out as the ugliest pieces of furniture around… Not to mention the brash sound quality, which typically only comes alive at higher than comfortable volume levels.
Typically, speakers with this wide of a baffle (29") are also about the same depth as their width. This turns most large format loudspeakers into washer dryer combo sized household appliances. The Octopus, however, is only 11 inches deep! It can sit in front of most house PA systems and will sound better. If you are a touring musician with the space and budget for your own pair of speakers, look no further than the Octopus (or even a 4 pair Octopus array).
An Octopus cabinet is actually 5 independently braced cabinets internally which isolates each driver (including the tweeter).
Using 4 x 8" fullrange drivers mathematically quadruples the efficiency of a single Triton speaker pair with quadruple the power handling and bass power output to boot. The Octopus offer a perfect balance between high efficiency and wide dynamic range, lending themselves to an immense variety amplifiers (Especially SET amps!).
The super tweeter is upgraded from the Triton design to a pro audio Eminence horn tweeter attenuated with a single solen capacitor and an L-pad. The sound of this tweeter configuration is superb. The attentuation of L-pad is barely needed as the four 8" full range drivers collectively approach the efficiency of the horn tweeter.
Overall, the Octopus the most visually and sonically beautiful speakers I have had the pleasure of developing thus far. The combination of high efficiency and high power handling in this design is an incredible wide open space I welcome you to explore with capable amplification and challenging music. Tube amplifiers, solid state, and digital amplifiers alike are all well suited to the Octopus.
The Octopus will bring out the best in music no matter what you throw at it due to their almost neutral but slightly euphonic sound quality
Specifications
Birch Plywood: 3 months to delivery
Maple or Walnut Veneer: 6 months to delivery
Price is for a pair.
Octopus weigh 55 lbs/ea. 110 lbs/pr.
Acknowledgements:
RALPH REIGN | PNW. HIP HOP WIZARD. Musician, Co-designer, co-creator of the first two pairs of Octopus in 2018.