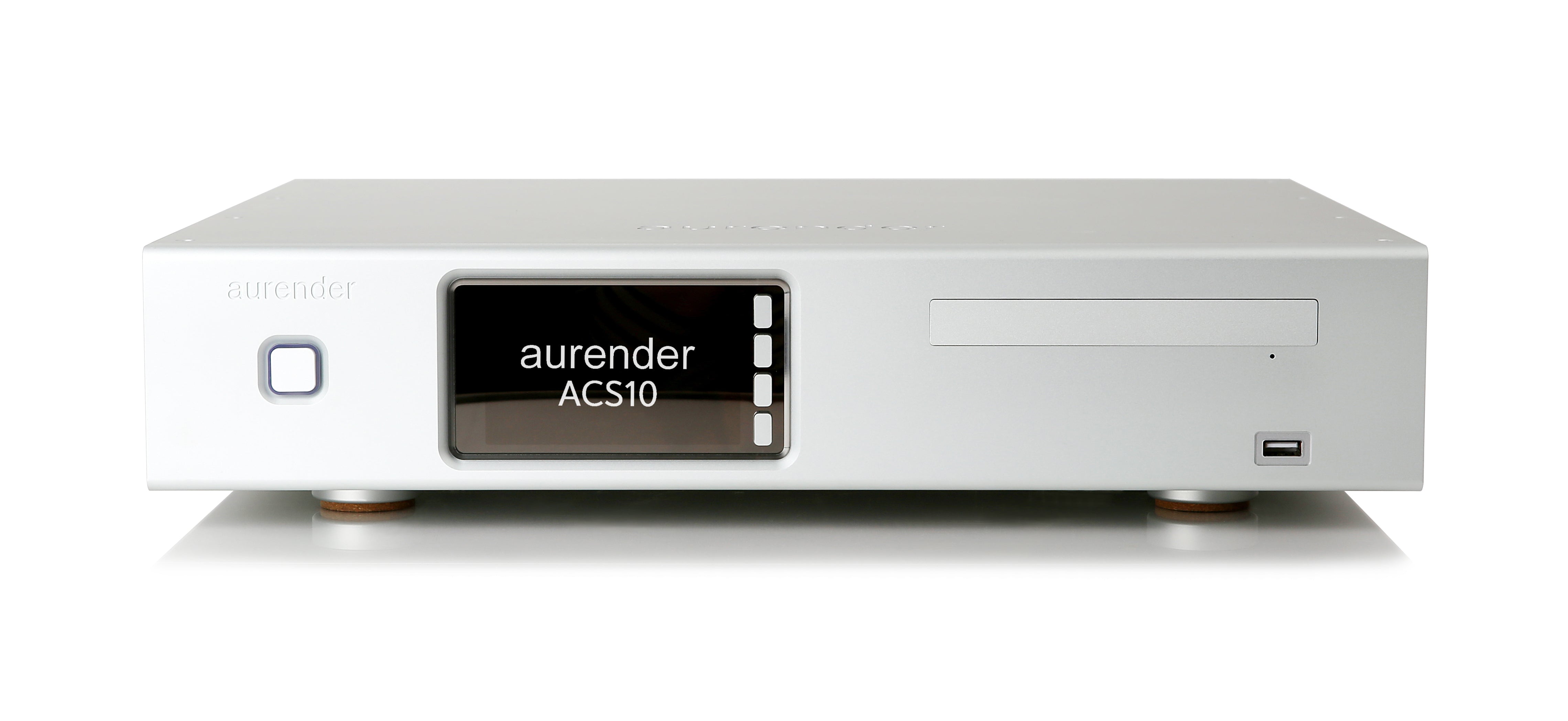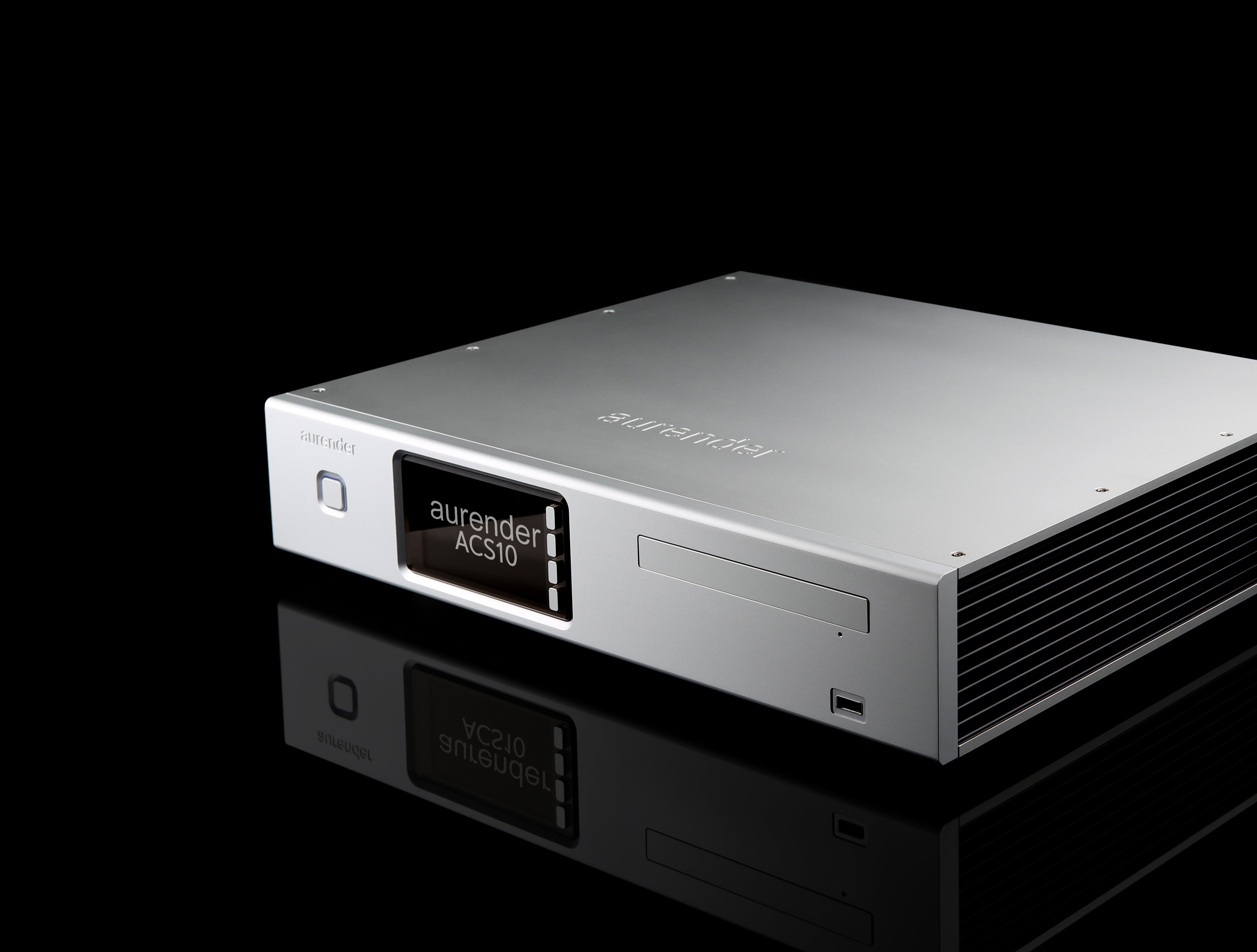 Aurender ACS10
---
Aurender ACS10
"Aurender is trying to kill your computer." - AudioStream
Designed and developed to eliminate the reliance upon computers and other IT products in your digital audio
system, the Aurender Content Server (ACS10) unifies the activities of CD ripping, Network Attached Storage (with RAID mirroring), and advanced library management/metadata editing with exceptional USB audio output.
Not only does ACS10 excel as a stand-alone Digital Transport with the same filtered & isolated USB
audio output found on the most high-end Aurender models, the included ACS Manager companion app incorporates advanced library management utilities right from your iPad or Android tablet.
A TEAC CD-ROM drive and ACS's reference quality CD Ripping engine authors the best sounding files from your CDs in your choice of FLAC, WAV or AIFF codecs. Metadata is automatically retrieved and fully editable if desired.
Music collectors with massive libraries or more than one high-end system in the home will appreciate ACS10 as a Central Server Hub for other Aurender players. Connectivity is accomplished over the network, allowing the ACS10 to be conveniently located in your main audio system or in a separate location.
Key Features
Reference Quality Automatic CD Ripping
ACS is for the music lover looking to convert a collection of CDs to a file-based format in the highest quality available. Enjoy lossless, error-corrected CD rips using ACS's TEAC optical drive and customized audiophile CD ripping engine.
Metadata Editing and Library Management
Like any precious collection, Music Libraries need curation. The dedicated ACS Manager app allows the user to manage, catalog, and groom a vast library for easy access. Browse your library with pride again.
Aurender's Dedicated USB Audio Output
USB is historically prone to transferring noise between devices. That's why Aurender's dedicated USB Audio output is physically and electrically isolated from the noise-generating CPU board to minimize noise in the sensitive audio interconnect.
Audio Grade Linear Power Supply with UPS
Clean power is the single most important factor in enjoying your favorite music with the highest fidelity from a digital source component. ACS10features a fully linear power supply block for a low noise floor, allowing the nuances and detail of your music to sing out. Super Capacitor UPS system protects your Aurender in case of abrupt loss of power.
Central Server Hub
Do you have more than one system in your home? Think of ACS as your musical "mothership" where your music library lives. Other Aurender systems on your network can stream your library from ACS seamlessly. With ACS handling the content storage/server tasks, your other systems run nice and light for superior audio performance.
Massive Built-In Storage Capacity
ACS10 ships standard in a 2 x 8TB RAID1 configuration, where the 2 HDDs are set up as mirror images of one another in case of drive failure. However, if you require more capacity, ACS can be easily reconfigured to make use of the full capacity of both drives. Need even more storage? Special order ACS10 with up to 2 x 14 TB HDDs!
Nimbie Auto-Loader Compatibility
For large CD archival projects, connect an Acronova Nimbie Auto Loader (sold separately) for automated batch ripping.
Future-Proofed Processing Power
The ACS system incorporates significant processing power and system memory designed to maximize headroom for expanded functionality now and in the future.
Physical Specifications
| | |
| --- | --- |
| Dimensions | 16.9"W x 14"D x 3.8"H (3.3" w/o Feet) |
| Weight | |
| Material | Machined Aluminum Chassis |
| | |
Technical Specifications
| | |
| --- | --- |
| Power Supply | |
| CPU | Intel Low Power Quad Core |
| RAM | 8GB/16GB for 24 and 28 TB models |
| Library Storage Capacity | |
| SSD for System & Cache | 240GB NVME/480GB NVME for 24 & 28 TB Models |
| Data USB Ports | 1X USB 3.0 (Front), 1X USB 3.0 (Rear) |
| Software Suite | Aurender Conductor, ACS Manager |
| Ethernet Suite | 1 Double-Isolated + 2 Standard Gigabit LAN |
| Uniterruptible Power Supply (UPS) | |
| Power Consumption | Play (16.5W), Peak (23.5W), Standby (6.5W) |
| CD Ripping Capability | Yes, Drawer-Loading Optical Drive, Compatible with Nimbie Autoloader |
Audio Specifications
| | |
| --- | --- |
| Analog Outputs | N/A |
| DAC Chipset | N/A |
| Audio Word Clock | |
| Analog Outputs Supported Format | N/A |
| Digital Outputs | |
| USB Output Supported Format | Up To 32-bit / 384kHz, DSD128 (DoP), DSD512 (Native) |
| SPDIF & AES/EBU Output Supported Format | |
| | |
| Headphone Section | |
| Master Clock Input | |
| | MQA Core-Decoder Upgrade Available |
| | DSD (DSF, DFF), WAV, FLAC, AIFF, ALAC, M4A, APE and others |
| | |