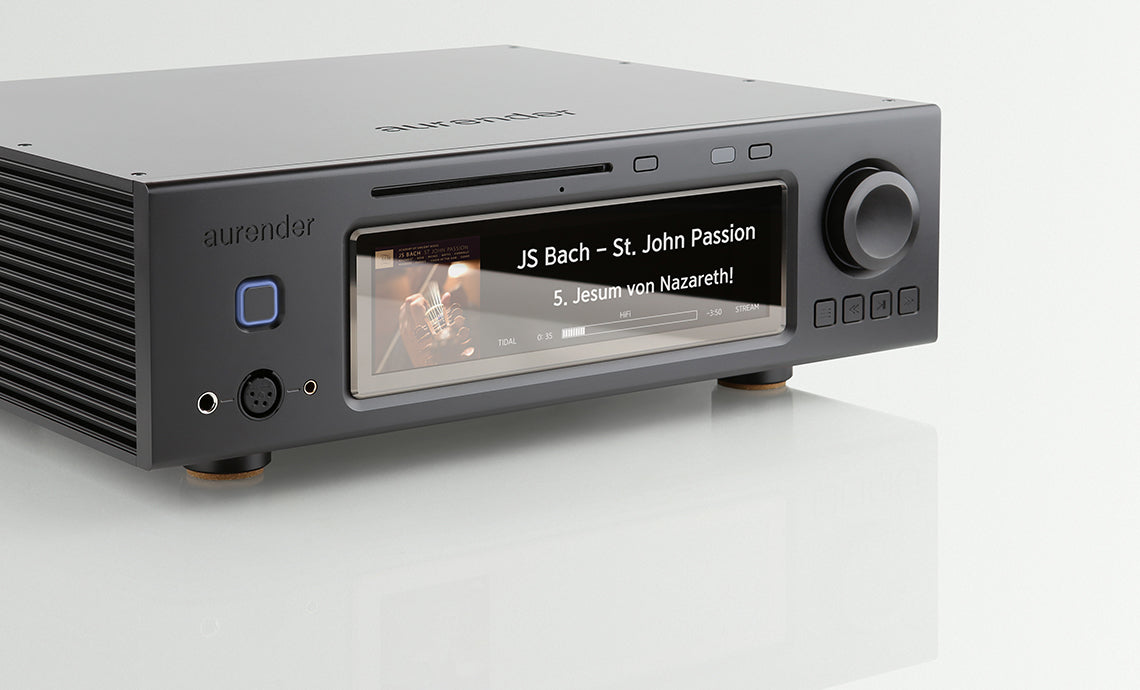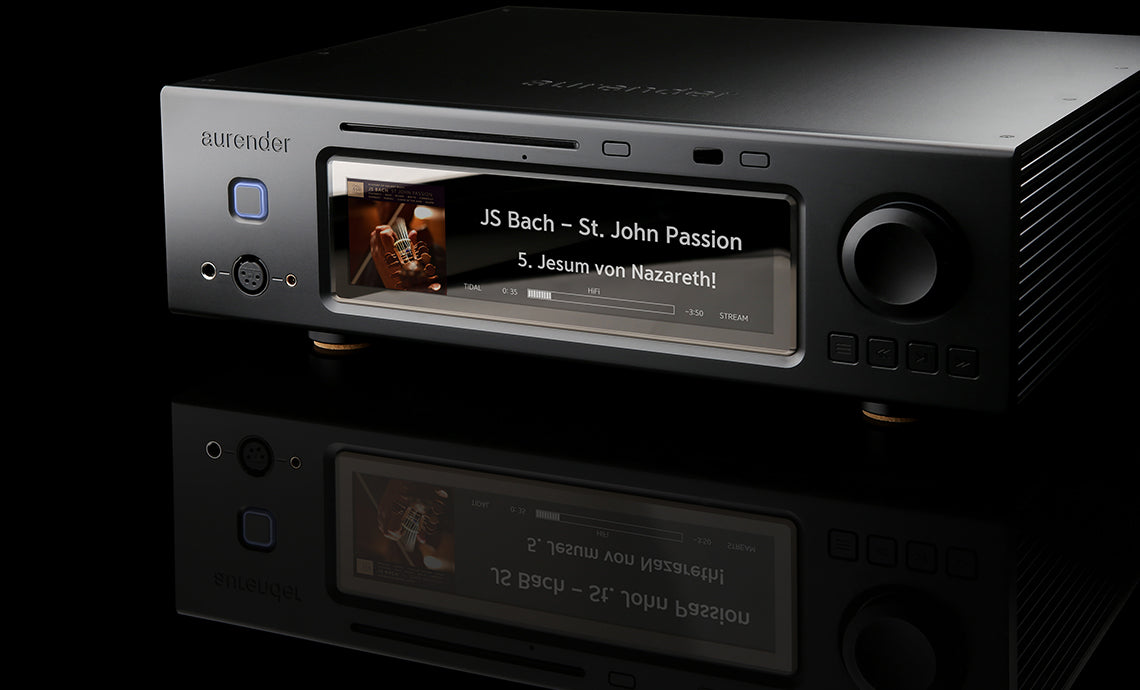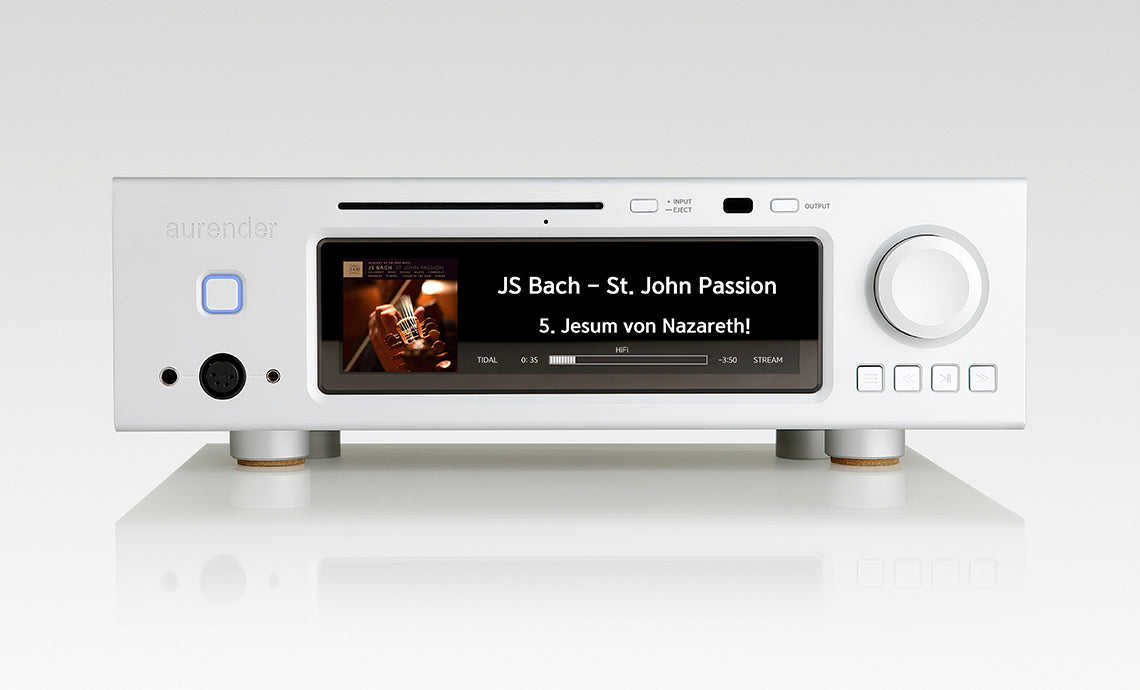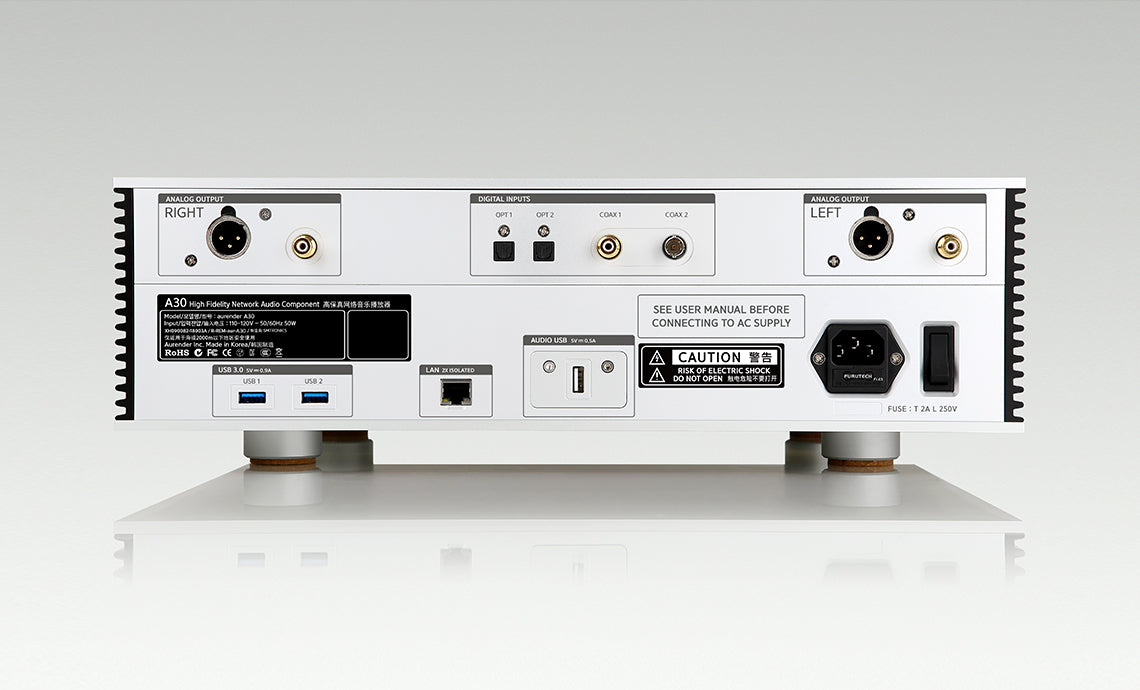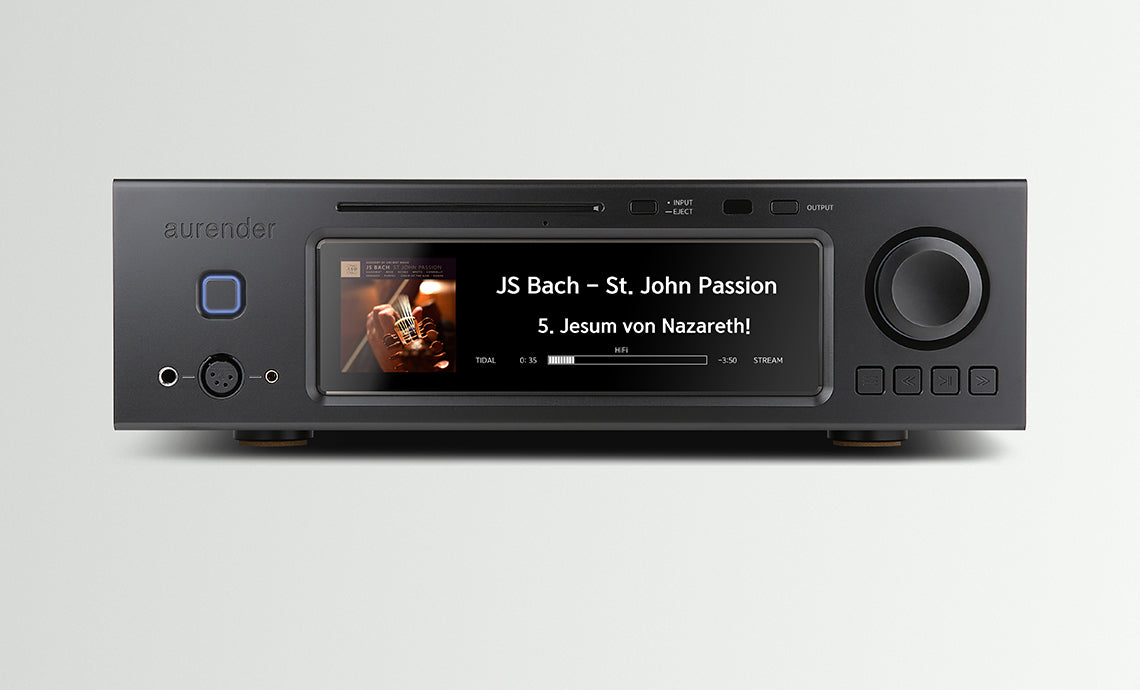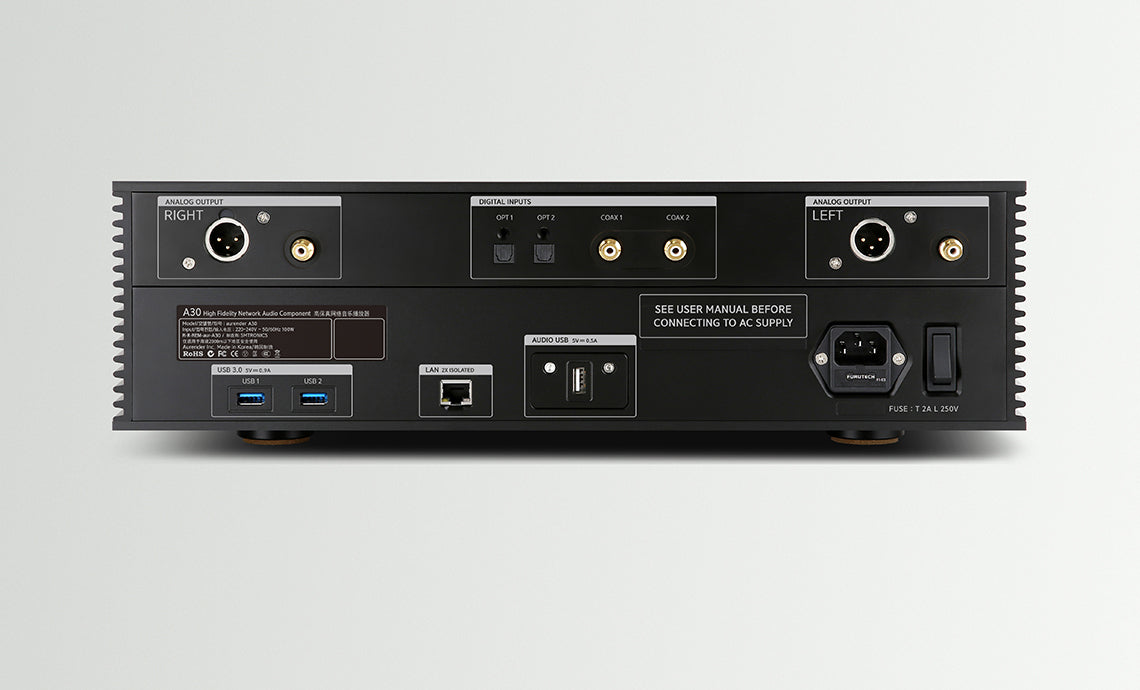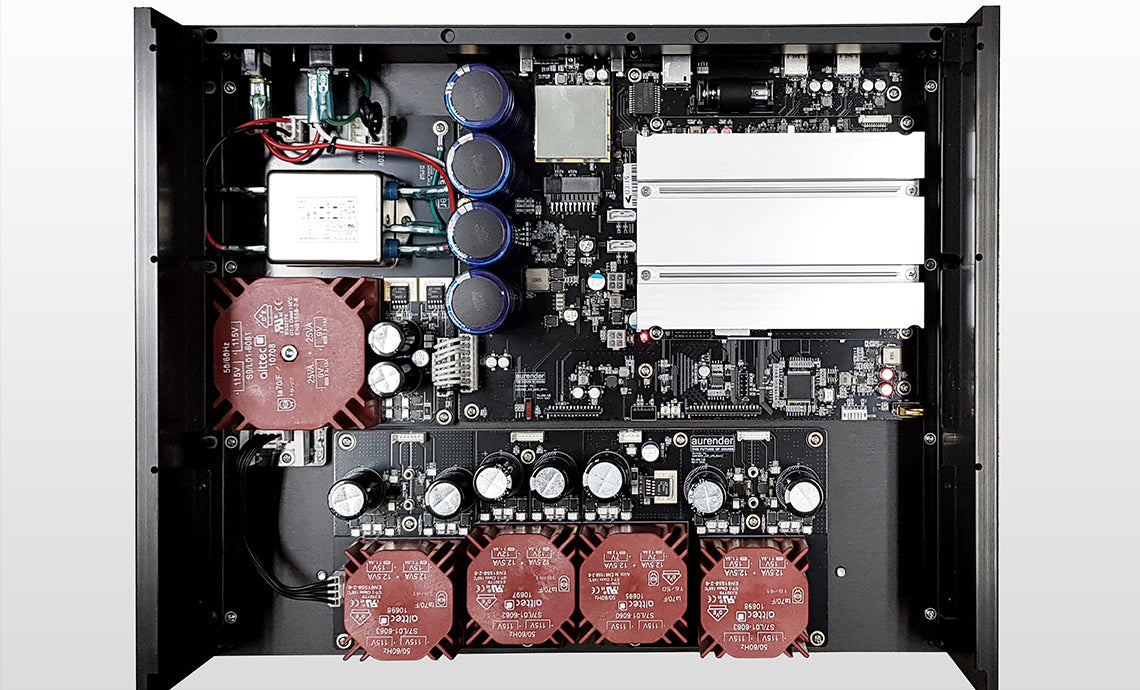 Aurender A30
---
Aurender's best DAC, plus the convenience of built-in CD Ripping
Reference Analog Output Network Player with Aurender's best built-in DAC, CD Ripping, Library Management functionality, 10TB storage, and Dedicated Headphone Section
A Marriage of Performance and Convenience
A30 is the flagship model from Aurender's range of analog output network players. Like A200, A15, and A20, A30 is, at its essence, a caching music server/streamer with a built-in DAC and analog outputs. 
A30 is built around Aurender's best internal DAC architecture: a dual-mono pair of AKM4497 DACs for the ultimate performance in channel separation, resolution, and control.
The Aurender A30 also includes full MQA Decoder technology which enables you to play back full-resolution MQA audio files and streams, delivering the highest possible sound quality of the original master recording. Beyond delivering exceptional audio quality, A30 includes functions like CD ripping, 10TB of internal storage, ultra-wide color LCD display, a high-quality dedicated headphone section, and an integrated software suite of metadata editing and library management tools.
All this, and much more, makes the A30 the new performance standard in all-in-one digital source components.
Aurender's Best DAC
Aurender designed the A30 for those seeking the simplicity of an all-in-one unit without sacrificing a high level of resolution, transparency, and the reproduction of inner detail. Built around an integrated dual-mono AKM4497 DAC module, A30 delivers MQA full-decoding to get the best performance out of MQA content, as well as every other major digital audio format.
Linear Power Supply with Integrated UPS
A fully-linear power supply architecture with extensive shielding prevents noise from being delivered to sensitive DACs. Four discrete toroidal transformers power the server system, digital outputs and dual-mono DAC respectively. A "super capacitor" based UPS system stabilizes A30 in the event of an abrupt loss of power.
FPGA-Based Precision Clock
A30's precision clock generation system incorporates a Field-Programmable Gate Array (FPGA) with sub 100fs jitter-reducing clock generator to precisely time digital audio data transmissions and minimize jitter to below negligible levels.
Variable Output XLR & RCA Outputs
A30's high quality Balanced (XLR) and Unbalanced (RCA) outputs guarantee compatibility with any preamp, integrated amp, or even power amps! A30's DAC-level lossless volume control enables it to function as a preamp when connected directly to a power amplifier.
Dedicated Headphone Section
In addition to being a stellar Analog Output Network Player for loudspeaker systems, A30's sophisticated headphone section is a real overachiever! Featuring a dedicated headphone amp and three different types of headphone outputs, A30 is a HeadFi lover's endgame.
10TB HDD Internal Storage
With a 10TB HDD built-in, even the most extensive music libraries will have plenty of headroom.
Automatic CD Ripping
Aurender's CD ripping software, which was custom engineered and optimized to work with the integrated TEAC CD-ROM, yields shockingly good CD rips in WAV, FLAC or AIFF codecs. Sophisticated error detection and correction software ensures accurate rips for great sounding digital files. A30 supports the Acronova Nimbie AutoLoader (not included) which allows for unattended and automated ripping of up to 100 cds at a time.
A30 Manager Companion App
A30 is so packed with features, we had to give it its very own app! The A30 Manager companion app is used to configure all Library Management functionality including CD ripping preferences and behaviors. Smart Copy/Move/Delete utilities, Metadata Editing and Duplicate Checker are just some of the library management software-based tools provided for you to organize your music library the way you want.
Digital Connectivity
A30 is capable of upsampling non-DSD files up to 705.6/768kHz to the analog outputs. Or leave upsampling off (default setting) for an untouched bitstream.
Upsampling DAC Option
A30 is capable of upsampling non-DSD files up to 705.6/768kHz to the analog outputs. Or leave upsampling off (default setting) for an untouched bitstream.
| | |
| --- | --- |
| Dimensions | 16.9"W x 14"D x 5.6"H (4.7" w/o Feet) |
| Weight | 37.5 lb |
| Material | Machined Aluminum Chassis |
| Front Panel Display | 8.8" 1920 x 480 Wide IPS Color LCD |
| | |
| --- | --- |
| Power Supply | Full Linear, 1x50W (CPU), 2x25W (DAC L&R), 1x25W (Headphone), 1x25W (FPGA) |
| CPU | Intel Low Power Quad Core |
| RAM | 8GB |
| Library Storage Capacity | 10TB (3.5" HDD) |
| SSD for System & Cache | 480GB NVME |
| Data USB Ports | 2X USB 3.0 (Rear) |
| Software Suite | Aurender Conductor, A30 Manager |
| | Double-Isolated Gigabit LAN |
| Uninterruptible Power Supply (UPS) | Yes (Super Capacitors) |
| Power Consumption | Play (47W), Peak (80W), Standby (6W) |
| CD Ripping Capability | Yes, Slot-Loading Optical Drive, Compatible with Nimbie Autoloader |
| | |
| --- | --- |
| Analog Outputs | XLR (Balanced), RCA (Unbalanced) |
| DAC Chipset | AKM 4497 - Dual-Mono |
| Audio Word Clock | OCXO |
| Analog Outputs Supported Format | PCM: Up to 32-bit / 768 kHz; DSD: Up to DSD512 |
| Digital Outputs | USB Audio (Dedicated) |
| USB Output Supported Format | Up To 32-bit / 384kHz, DSD128 (DoP), DSD512 (Native) |
| SPDIF & AES/EBU Output Supported Format | N/A |
| Digital Inputs | 1X Coax RCA, 1X Coax BNC, 2X Optical/Toslink |
| Headphone Section | 1 x 1/4" (6.5mm) Unbalanced, 1 x 4-pin XLR Balanced, 1 x 4.4 mm Balanced |
| Master Clock Input | N/A |
| MQA Support | MQA Full-Decoder On Board |
| Compatible Formats | DSD (DSF, DFF), WAV, FLAC, AIFF, ALAC, M4A, APE and others |
| | N/A |