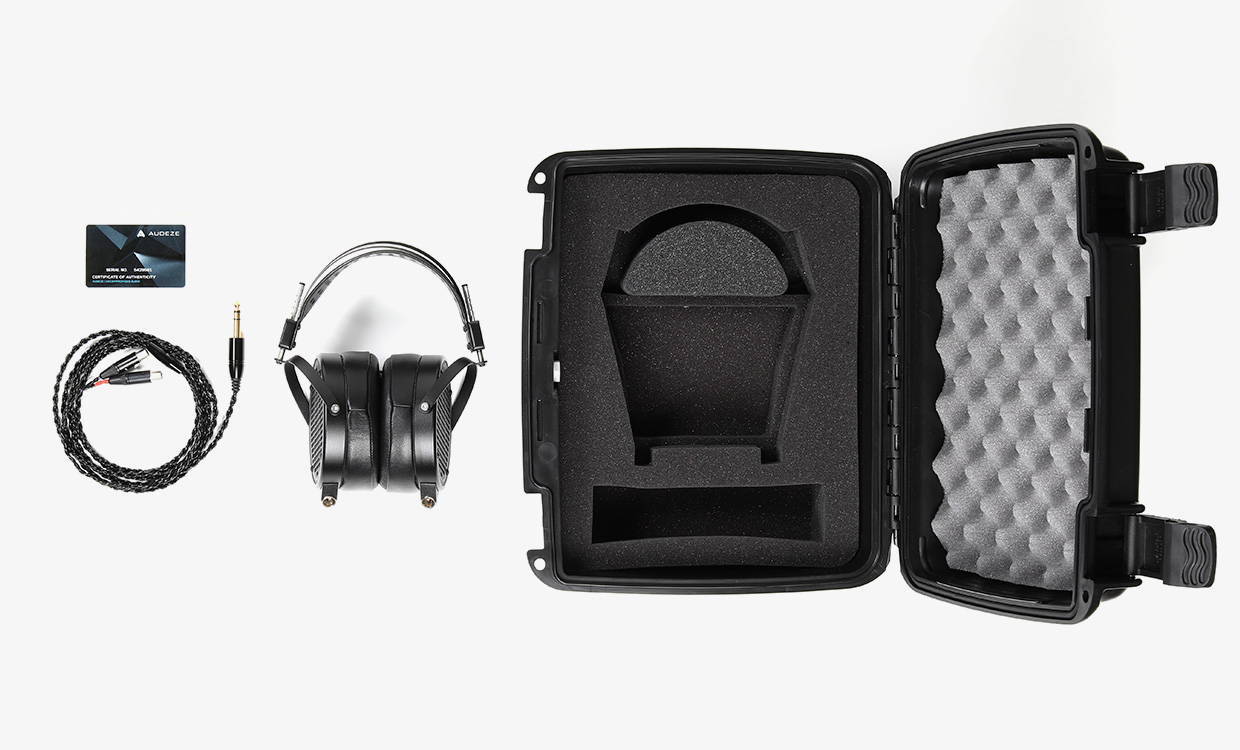 Audeze LCD-X
---
Our Best-Selling Headphone - The Audio Professional's Choice
Since Audeze introduced the LCD-X in 2013, it has become the gold standard of the professional audio world. Trusted by award winning artists and engineers, the LCD-X is a blend of transparency and reliability, ideal for any studio or audiophile system.
Taking the Room out of the Equation

The class-leading resolution and impressively low distortion makes the LCD-X comparable to high end speaker systems, without requiring large, expensive acoustic room treatments. When used with Audeze Reveal+ to create an AI-generated map of your own hearing, the LCD-X puts you inside renowned studios, letting you mix consistently and efficiently from anywhere.
Accuracy, Transparency, and Efficiency
LCD-X leverages patented Audeze technologies, including Ultra-Thin Uniforce™ diaphragms, Fazor waveguides, and powerful neodymium magnets to deliver extremely accurate and detailed sound. The sophisticated planar magnetic drivers achieve a high efficiency with low impedance, such that LCD-X can deliver great sound from nearly any device with a headphone output. Together, these innovations enable audio professionals to efficiently get their mix done right in a variety of settings.
Designed for Comfort
Audeze has improved the LCD-X over the years, lowering the weight and increasing comfort. It features a suspension headband for even weight distribution, and highly-cushioned premium earpads for support. The neutral tuning and low distortion prevent listening fatigue, so those late-night sessions never have to end.
Creator Package Includes:
• LCD-X planar magnetic headphone
• Single-ended 1/4'' to dual 4-pin mini-XLR cable
• Standard LCD travel case
Premium Package Includes:
• LCD-X planar magnetic headphone
• Single-ended 1/4'' to dual 4-pin mini-XLR cable
• Balanced 4-Pin XLR to dual 4-pin mini-XLR cable
• 1/8" Single ended stereo adapter
• Professional travel case
 Specifications
| | |
| --- | --- |
| | |
| | |
| | |
| | |
| | |
| | |
| | |
| | |
| | |
| | |
| | 103 dB/1mW (at Drum Reference Point) |
| | |
| | |
| | |
| | |
| | 1.9m (6.2ft) length, Single ended 1/4" (6.3mm) termination |
| | 20 AWG high-purity OCC audio-grade copper |
| | |