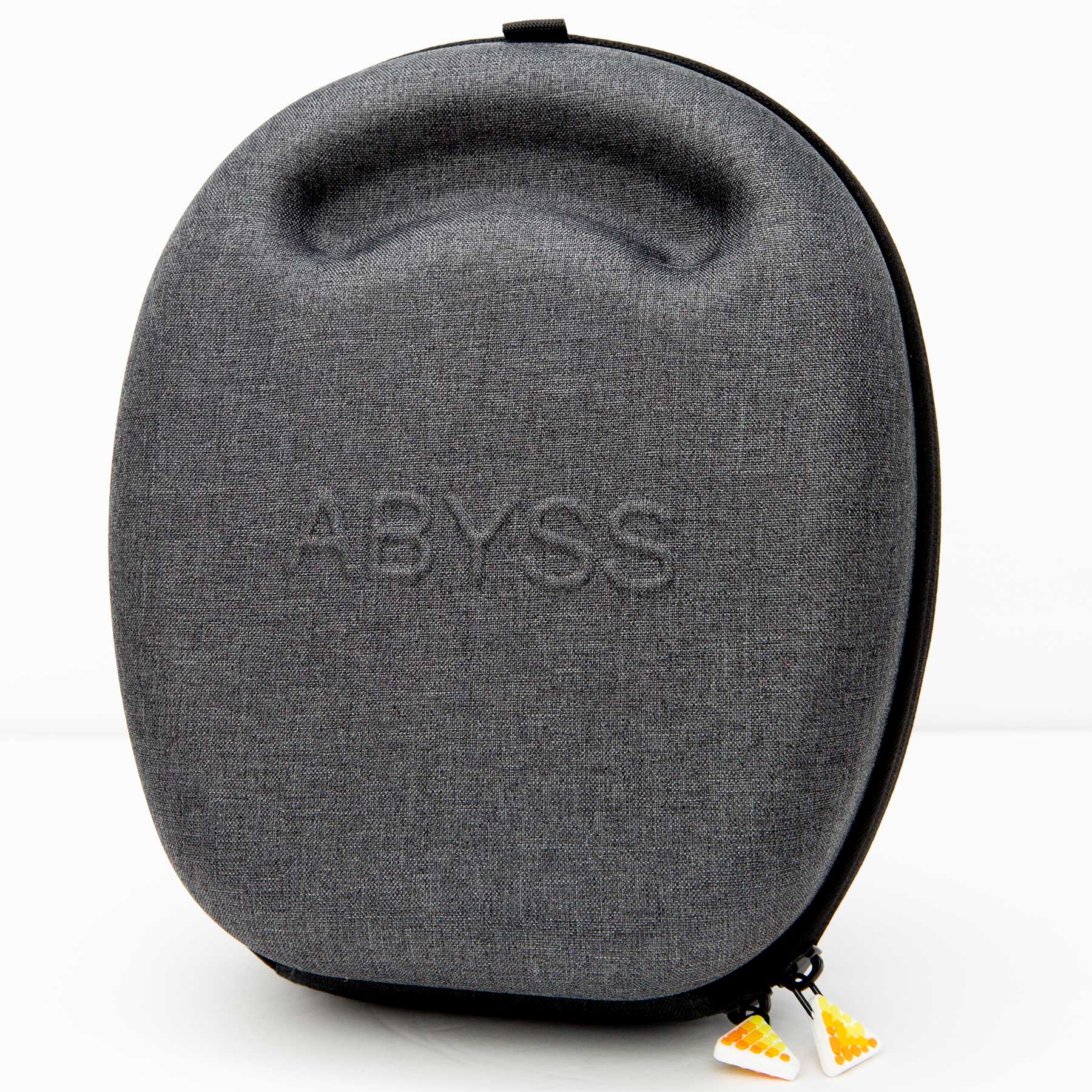 Abyss Diana MR
---
New ABYSS DIANA MR headphones are designed to connect audiophile and head-fi aficionados with professional audio mixing and mastering engineers. The team at ABYSS developed this highly universal full-range planar headphone with ultra low distortion, near flat frequency response, and smooth addictive clarity to sound.
DIANA® MR maximizes listening enjoyment with any level of electronics, from a simple USB dongle through high-end tube and solid state headphone amplifiers, this headphone has a universal sound character that sounds amazing with them all.
Its low impedance works well with portable battery operated gear and desktop electronics, extracting amazing resolution out of low voltage power sources while still sounding lush in the bass. This patented newly designed MR planar driver exhibits a flat frequency and phase response with a full natural sound through the bass and midrange, excellent vocals, and an extended high frequency range that's smooth, clear, and true to the source yet never harsh or brash.
With MR you'll hear crazy low level details into the recordings without fatigue, glare, or sibilance. We've instilled the best attributes of high-performance headphones into this one model. The sound is just to die for, effortless and easy. This latest ABYSS Diana MR headphone will fit your head, ears, and brain like it was custom made just for you!
Note: Vegan version comes with cactus leather headband and UltraSuede ear pads. These ear pads have a subtle softening of upper frequencies that for most listeners complement this headphone and systems nicely. They are also quite comfortable. Suggest lambskin ear pads if you prefer to maximize detail retrieval. You can also order additional Diana magnetic ear pads including bass ported versions at any time to tailor the sound at will.
Made in USA




We CNC machine and finish the all aluminum frame components, produce our own planer speaker drivers, and skillfully assemble with care within our facility in Buffalo, New York




The thinnest and lightest boutique headphone in the world sculpted from aircraft grade aluminum for incredible strength. What we're saying here is build quality, fit and finish of each and every Diana MR headphone is impeccable, absolute best in the industry!




High quality leather headband with soft race-car inspired Alcantara® and added padded elements to eliminate hot spots (VEGAN option made with cactus leather). Additional soft cushion pad included




High-tech polymer ceramic finish with custom in-lays of carbon fiber or exotic wood




Large 63 mm patented planar speakers deliver the ABYSS signature sound with powerful bass




The latest generation Diana ear pads made in-house by ABYSS with head-shaped foam and a 'pillow top' cushion that adapts to the shape of your head for long-term comfort with minimal clamping force (Lambskin leathers or VEGAN UltraSuede (black only)




Fibonacci side hole pattern properly tunes the sound while following a natural flow of air




Headband size adjustments utilize magnets over magnets with no parts to wear for long-term reliability




Updated headband design twists and flexes in sync with the cushion ear pads to perfectly contour to your head shape for a comfortable custom fitment. Fits 95% of users, large, tall, short, and small heads, Diana MR has a unique range of adjustability. For the last 5%,

we have solutions

, contact us directly if you find yourself there.




Choose from three color combinations




New custom hard carry case with velvet lined interior fits and protects Diana like a glove




Weight 360 grams (light)




Impedance 30 ohms (lower)




Sensitivity 91 dB/mw (lower)




Frequency response 10 Hz - 30 KHz (wide)




Includes a high quality headphone cable by JPS Labs, length 1.5 meter/5 FT, with choice of 3.5 mm, 6.3 mm, 4 pin XLR or 4.4 mm balanced plug (Additional cables may be purchased separately)



High-performance headphones prefer a quality portable headphone player or headphone amplifier for best results. A cel phone will not play to satisfying levels nor quality. Please visit our Electronics section for compatible electronics, or ask your ABYSS Dealer about mating gear.